THS

boys take fifth, girls seventh at Lansing Invitational
Chieftains combine for 11 top-three finishes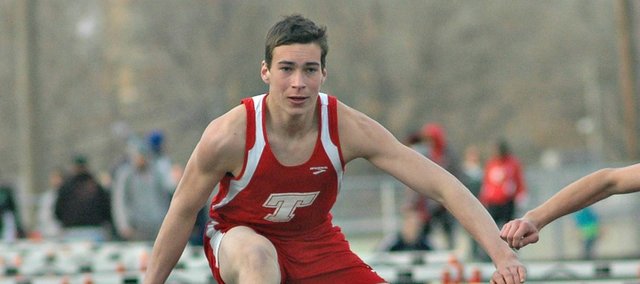 Related document
Photo Gallery
THS at Lansing Invitational
The Tonganoxie High track and field team opened its season Tuesday in Lansing. The boys finished fifth and the girls seventh in the team standings.
Lansing — Strong individual performances and personal records highlighted the start of Tonganoxie High's 2013 track and field season Tuesday at the Lansing Invitational.
The boys and girls teams combined for 11 top-three finishes in the 10-team meet. The boys finished fifth in the team standings with a score of 72, while the girls came in seventh with a 47.
A trio of gold medals powered the boys squad in its first competition of the year. Junior Cody Snyder swept the shot put and discus to open his 2013 campaign. He won the shot put with a throw of 45 feet, 8 inches, then captured the discus title with a mark of 135-4.
Fellow junior Ben Johnson, a first-year member of the team, won the Chieftains' third gold medal with a height of 5-10 in the high jump. He capped the first meet of his career with a third-place finish in the 300-meter hurdles (44.96 seconds) and a fifth-place finish in the 110-meter hurdles (19.84), making him Tonganoxie's only athlete to place in three events.
Other top-three individual finishers on the boys side were juniors Clayton Neas (third in discus, 127-7) and Andrew Behm (third in pole vault, 10-6). The boys 4x100-meter relay team also earned a third-place finish with a time of 45.71.
"What I really like is that we had so many guys PR," boys coach Scott Peavey said. "We'll just continue to work and try to get our times down. We want to peak in May, so we'll gradually get better and better."
Led by several seniors , the THS girls enjoyed success in running and field events alike. Bobbi Jo Kissinger and Holley Thompson took second and third in the discus with throws of 93-7 and 91, respectively. Jenny Whitledge opened the season with a second-place finish in the high jump (5-2), and Hannah Kemp took third in the 100 hurdles with a personal-best time of 16.87.
Sophomore Kourtni Freemyer and freshman Sophia Wetta headlined a list of strong performances by underclassmen. Freemyer cleared the eight-foot mark to finish fourth in the pole vault, while Wetta took third in the 3,200-meter run with a time of 13:31.
Sophomore Tressa Walker was the girls' only multi-event placer. She took fourth in the 800-meter run (2:42) and sixth in the triple jump (30-7).
"I thought most of our kids came out and competed tonight," girls coach Chris Weller said. "I'd like to see the girls keep improving on their distances so, when it's regional time, we can be up there."
Class 5A Mill Valley swept the team titles. The Chieftains will return to action Friday at the Bobcat Relays at Basehor-Linwood.
Girls team scores
Mill Valley, 132; 2. St. James, 107; 3. Maranatha, 72; 4. Atchison, 67; 5. Lansing, 57; 6. Piper, 49; 7. Tonganoxie, 47; 8. Pleasant Ridge, 24; 9. Immaculata, 6; 10. Basehor-Linwood, 2.
Boys team scores
Mill Valley, 133; 2. St. James, 93; 3. Piper, 76; 4. Lansing, 74; 5. Tonganoxie, 72; 6. Pleasant Ridge, 37; 7. Maranatha, 35; 8. Atchison, 21; 9. Immaculata, 16; 10. Basehor-Linwood, 2.