Golf finishes 12th at Jaguar Invitational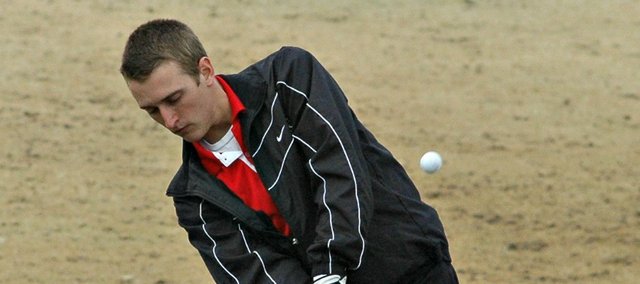 Olathe — With two tournaments now in the books, the Tonganoxie High golf team continues to figure out its identity. The Chieftains' theme at their most recent outing — Wednesday's Mill Valley Jaguar Invitational — was one bad hole.
Each of the team's top three golfers had one hole of at least nine strokes, hampering an otherwise improved performance at Prairie Highlands Golf Course. As a team, THS finished 12th overall with a 346 — 14 strokes lower than its season-opening performance at last week's Sunflower Classic.
"We improved, and that's what we need to do is improve each tournament," coach Jared Jackson said. "We're about three holes away from putting together good rounds. If you get those three off the scorecard, now we're being competitive. We're getting closer."
Just one stroke separated the Chieftains' top four scores at Wednesday's tournament. Junior Drew Sandburg and senior Aaron Williams, who occupied the top two varsity spots, tied for the team lead with scores of 86. Seniors Tyler Hall and Conner Kietzmann each shot an 87, while fellow senior Zack Tallent finished with a 95.
The tournament was the first varsity action for Kietzmann, who replaced junior Austin Harris in the varsity lineup.
THS finished fourth among Class 4A schools behind Piper (sixth, 333), Ottawa (eighth, 339) and Bonner Springs (10th, 344). Class 6A Topeka-Washburn Rural won the team title with a score of 297 — 22 strokes better than second-place finisher Blue Valley Northwest.
The Chieftains will send a split squad Monday to the Lansing Invitational at Leavenworth Country Club. THS will sent its bottom three varsity golfers, as well as three members of the junior varsity squad. The full varsity squad won't return to the course until the Hayden Invitational on April 15 in Topeka.
"We have to practice well — especially our top three. They're going to go nearly two weeks without a tournament. That comes down to them wanting to be course ready when they get back out in two weeks. This is a big point for improvement.
Overall team results
Washburn Rural, 297; 2. Blue Valley Northwest, 319; 3. Olathe East, 323; 4. Olathe South, 324; 5. St. James, 326; 6. Piper, 333; 7. Mill Valley, 335; 8. Ottawa, 339; 9. St. Thomas Aquinas, 341; 10. Bonner Springs, 344; 11. Blue Valley Southwest, 345; 12. Tonganoxie, 346; 13. Basehor-Linwood, 375; 14. Lansing, 378; 15. De Soto, 385; 16. Shawnee Mission South, 389; 17. Turner, 401; 18. Perry-Lecompton, 427; 19. Bishop Ward, 441.
Top 10 individual results
Andrew Beckler (WR), 70; 2. Simon Beatty (WR), 71; 3. Jayce Steury (OS), 75; 4. Braden Beal (WR), 77; 5. Brady Kaemmer (OE), 77; 6. Ben Maskus (SJ), 78; 7. Jack Casburn (MV), 78; 8. Tristan Abts (BS), 78; 9. Leo Demleitmer (OE), 78; 10. Spencer Roberts (BVNW), 78.