Soccer shows improvement in loss to De Soto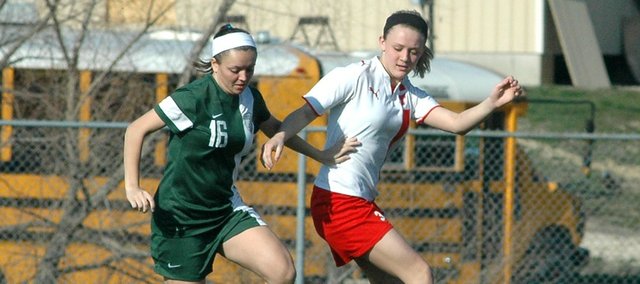 De Soto 3, THS 0
First half scoring
Amy Bilger (DES), 25:39
Michelle Keleher (DES), 2:46
Second half scoring
Michelle Keleher (DES), 18:29
The Tonganoxie High girls soccer team will have to wait a little longer for its first win of the season, but the Chieftains showed Thursday that they're getting closer to a potential breakthrough.
THS kept the possession battle close and created several scoring opportunities, but couldn't find the back of the net in a 3-0 loss against Frontier League opponent De Soto.
In a rematch of last year's state quarterfinal matchup, the Wildcats struck first when Amy Bilger scored on a corner kick with 25:39 left in the first half. A back-and-forth battle ensued until the Chieftains (0-3) got a chance on a corner kick late in the half. They came up empty, though, as Molly Welsh's inbound kick bounced off the cross bar and out of bounds with 3:30 remaining.
De Soto doubled its advantage less than a minute later when Michelle Keleher broke free down the middle of the field and got the ball by freshman goalkeeper Lauren Jackson. The Wildcats took their 2-0 advantage into the break.
Coach Justin Seever made a formation change in the second half, which allowed THS to create more scoring chances on its opponent's side of the field. Welsh and junior Emily Soetaert both got looks on multiple occasions, but errant shot attempts and deflections by defenders kept the shutout intact.
"We threw another girl up top in the second half," Seever said. "We were getting exposed, so we went back to what we did last year. Having another girl up top gave us some momentum, and we had some good opportunities. Once we started speeding our play up, it made it easier for us."
Keleher capped off scoring with her second goal of the game with 18:29 remaining.
The Chieftains will be back on the field at 4 p.m. Monday when they host Kaw Valley League foe Piper. The teams played to a scoreless tie in their only regular season meeting last year, then THS handed the Pirates a 4-1 loss in the regional championship game.
Seever's squad will play three games in four days next week. Following Monday's visit from Piper, the Chieftains will travel Tuesday to Bishop Ward and host Bonner Springs on Thursday. In the meantime, Seever will place more emphasis on putting the ball between the posts.
"We probably need to practice (shooting) more," he said. "We spend most of our time working on keeping possession and not so much the final third part. We'll spend all day tomorrow and Sunday working on nothing but finishing."