Truesdell signs with Manhattan Christian College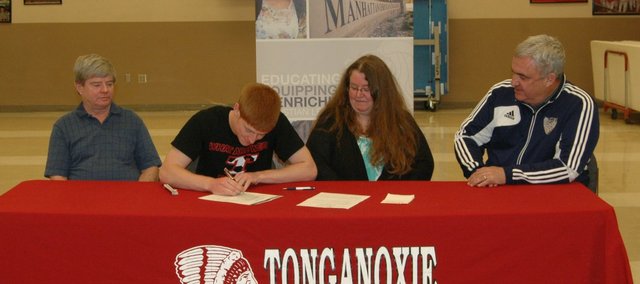 Since arriving at Tonganoxie High in 2009, Keaton Truesdell has helped develop a winning culture within the boys soccer program. Friday afternoon at THS, he guaranteed he'd carry that winning attitude beyond his high school career.
The Chieftain senior has signed a national letter of intent to play for Manhattan Christian College.
"It feels a lot better," Truesdell said. "It's just relieving to sign with somebody and know I can focus on that."
A four-year starter at goalkeeper, Truesdell helped Tonganoxie reach unprecedented levels of success in the last four years. The Chieftains got their first-ever postseason win and made their debut in the regional finals his freshman year, then accomplished the same feat despite going just 3-16 a year later.
Wins came often the rest of the way, as THS went a combined 27-11-2 in 2011 and 2012. Truesdell led the team to its first regional title as a junior, then propelled the Chieftains to the state title game in 2012.
Arguably the best performance of his career came in a 3-1 win against McPherson in the state semifinals. He recorded 29 saves against an MHS team that entered the game with 93 goals on the year. Following the season, he was named to the Kansas Soccer Coaches Association All-State first team.
Truesdell may have led the Chieftains to new heights on the soccer field, but according to THS coach Brian Kroll, none of that compares to the step he's taking as a student.
"Take away the state runner-up, the two regional titles and all that stuff," Kroll said. "As a coach, this is what I like to see more than anything. (Truesdell) is using that as a platform to move forward and get an education."
Truesdell will share the field with at least one familiar face in 2012 THS grad Matt Briggs. Briggs helped MCC to a 19-6 record last fall.
Success hasn't been hard to come by for the Crusaders, who have won three national titles since 2005. They took third at the 2012 National Christian College Athletic Association national tournament.
"We had to come back to Tonganoxie to get us back over the hump," MCC coach Rick Wright said. "If (Truesdell) is half as good as his coach has said, we are going to be in the money."