Chieftain baseball downs Turner for first win
Woods strikes out six in complete game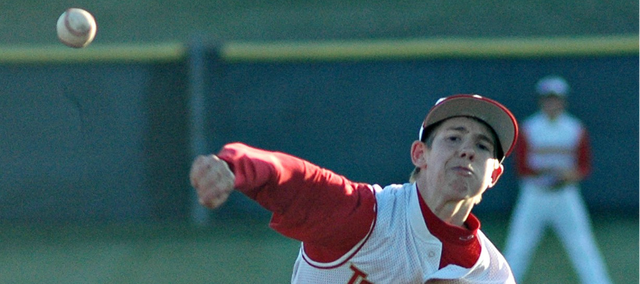 The Tonganoxie High baseball team earned its first win of the season as the visiting team, but as fate would have it, the Chieftains' first taste of victory came on their home field.
Poor field conditions moved Monday's Kaw Valley League game at Turner to the Leavenworth County Fairgrounds, where THS came from behind for a 4-3 victory — its first win in five games.
"It's hard to keep the kids focused at the level we need to be at when we're constantly losing," coach Mitch Loomis said. "For them to show the resolve to come back and play hard after last week was huge."
The Chieftains (1-4, 1-2 KVL) grabbed an early lead when Connor Wentz-Hall led off the first inning with a triple and scored when Shane Levy reached on an error. However, Turner answered with two runs in the both of the inning and added one more in the third to take a 3-1 lead against starting pitcher Travis Woods.
Woods, an All-KVL honorable mention in 2012, settled down and didn't allow another run the rest of the way. Meanwhile, the THS offense started to come alive. A pair of Turner errors allowed James Grizzle and Cody Saladin to reach base in the fourth, giving the Chieftains a chance to cut into the lead. Grizzle and Tyler Zinser — who entered as a courtesy runner for Saladin — later came around to score and tie the game.
Loomis' squad regained the lead one inning later when Wentz-Hall drew a walk and came around to score on a sacrifice fly by Grizzle.
"We executed really well as far as small ball goes," Loomis said. "When you do those little things and don't make mistakes, that adds up to the runs that we needed."
Woods didn't allow the Bears to answer in the late innings. He went the distance for the Chieftains, striking out six while allowing just two earned runs on four hits.
"That's the kind of stuff (Woods) is capable of that we saw a lot last year," Loomis said. "We're going to ride him in big games, and he showed up big for us."
Wentz-Hall led the Chieftains at the plate, going 2-for-3 with two runs scored. His triple and sixth-inning single were the team's only hits.
THS will be back on its home field on Tuesday when it hosts Class 5A Lansing for a single game. The varsity game will take place after the junior varsity game, which is scheduled for 4 p.m.
Tonganoxie 4, Turner 3
Tonganoxie 100 210 0 — 4
Turner 201 000 0 — 3
Leading hitters: Connor Wentz-Hall 2-3, 3B, 2 runs; Shane Levy RBI; James Grizzle RBI.