Comeback not enough as
THS

soccer falls to Piper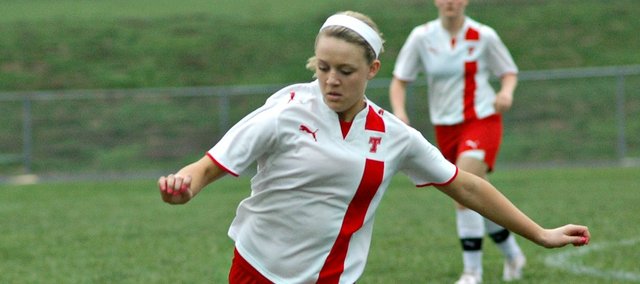 Photo Gallery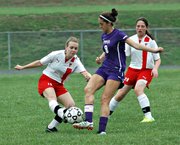 Girls soccer vs. Piper
The Tonganoxie High girls soccer team dropped a 3-2 decision to Kaw Valley League opponent Piper on Monday.
Piper 3, THS 2
First half scoring
Megan Galey (PIP), 39:18
Megan Woolley (PIP), 12:36
Megan Woolley (PIP), 11:11
Second half scoring
Emily Soetaert (TON), 36:38
Emily Soetaert (TON), 4:13
A Monday visit from Piper didn't end favorably for the Tonganoxie High girls soccer team, but the Chieftains took yet another step toward the ever-elusive first victory.
A furious comeback came up just short as THS dropped a 3-2 decision to its Kaw Valley League opponent on its home field.
After giving up three Piper goals in the first half — two by Megan Woolley in less than 90 seconds — the Chieftains (0-4, 0-3 KVL) tightened up on defense and didn't allow the Pirates to create any easy scoring opportunities after halftime. After controlling possession for most of the opening period, PHS was kept in check by the Chieftain defenders and goalkeeper Lauren Jackson down the stretch.
However, according to coach Justin Seever, the team's best defense was a good offense.
"I think we were got a little better organized defensively and kind of took (Woolley) out of it, but our best defensive effort was having the ball more and attacking," he said. "We were playing stingy defense, but when we were springing people, we were dangerous."
Junior Emily Soetaert got the Chieftains on the board when she broke free down the right side of the field and got the ball by Piper goalkeeper Sara Ferguson in the opening minutes of the second half. THS missed on several other chances throughout the half, but Soetaert struck again when her shot attempt bounced off the top post and into the net with 4:13 remaining.
Soetaert, who scored 11 goals last season, nearly tied the game less than two minutes later, but came up wide on a breakaway attempt. THS didn't get another clean look as time ran out on its comeback attempt.
"We had three or four opportunities in the first half, but we probably had 15 in the second half," Seever said. "We probably could have put up six goals that half."
The Pirates needed less than a minute to take the lead in the first half, as Megan Galey caught Jackson out of position and tapped the ball into the net just 42 seconds into the game. The score remained 1-0 until Woolley connected on a penalty kick with 12:36 left until halftime.
Woolley scored her second goal of the game on a shot up the middle just 1:25 later, and Piper took a 3-0 advantage into the break.
Seever's squad returned to the field Tuesday at Bishop Ward. The Chieftains defeated the Cyclones in three meetings last season.