Mistakes, missed chances cost
THS

baseball vs. Lansing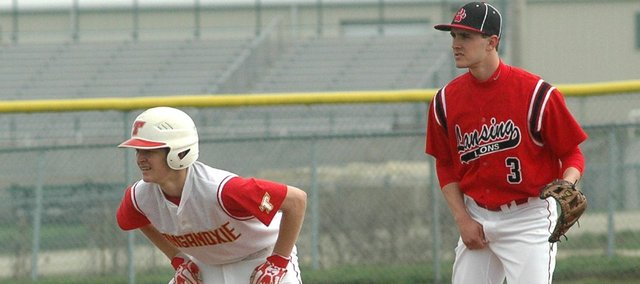 For the second night in a row, Tonganoxie High got a complete game effort on the mound. However, unlike last time, the team wasn't able to reward its pitcher with a win.
Brett Shelton went the distance for the Chieftains in Tuesday's visit from Lansing, but costly mistakes and missed opportunities led to a 7-4 loss in Kaw Valley League play.
The Lions struck first with a two-run single by Sage Herrera in the opening frame, but the Chieftains (1-5, 1-3 KVL) got one back on a sacrifice fly by Shane Levy in the bottom of the inning. Lansing hung two more in a third inning that included three stolen bases, a passed ball and a fielding error.
Down 4-1 in the bottom of the third, THS looked to tie or take the lead when it loaded the bases with nobody out. James Grizzle drove in a run on a sac fly, but Levy — who was intentionally walked to load the bags — was called out when Cody Saladin interfered a throw to second base by the catcher. Saladin was then retired on a fly ball to center field.
"This is a funny game," coach Mitch Loomis said. "When things aren't going your way, the game's got a way of taking breaks away from you. We've got to make our breaks. We can't expect anything to happen for us. Those little mistakes we're making, we're just not quite good enough offensively to make those."
Lansing extended its lead to 7-2 with three more runs in the fourth — two of which came on pitches that got by Saladin behind the plate.
Levy drove in his second run of the game on a fifth-inning single and Travis Woods picked up an RBI in the seventh, but that's as close as the Chieftains got.
Shelton took the loss on the mound. He allowed six earned runs on 12 hits while striking out four. Several of the Lions' runs were products of stolen bases or defensive errors.
"(Shelton) did everything and then some to give us an opportunity to win," Loomis said. "We gave up way too many free bases behind him. He left three or four pitches up, but that was the only thing he did wrong all night."
Connor Wentz-Hall was the only Chieftain with a multi-hit game, going 3-for-4 with a double and two runs scored.
The Chieftains will wrap up their week on Friday with a home double against KVL foe Basehor-Linwood.
"We've just got to get tougher. We're kind of passive right now," Loomis said. "These kids have to understand we only get 20 of these games guaranteed to us. We need to have a little better belief in ourselves and in our teammates."
Lansing 7, Tonganoxie 4
LHS 202 300 0 — 7
THS 101 010 1 — 4
Leading hitters: Connor Wentz-Hall 3-4, 2B, 2 runs; Shane Levy 1-2, 2 RBI; James Grizzle RBI; Travis Woods RBI.