Dog's journey on a snowy night leads to cross-country trip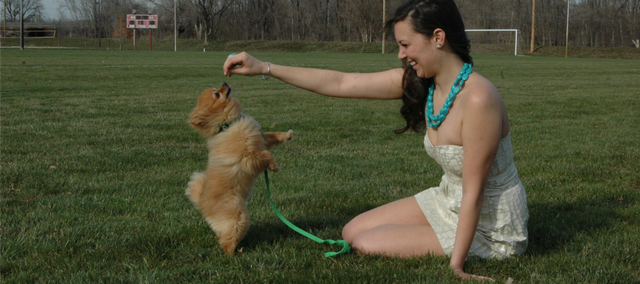 Wherever Aubrey Koontz goes, Cash is sure to follow.
Cash is Koontz's dog, a Pomeranian that went along for a sandwich run a few blocks from her apartment on the Country Club Plaza in Kansas City, Mo., last month.
Cash stayed in the car while Koontz picked up her food.
When she returned home, the Pomeranian was nowhere to be found in the car.
"He doesn't like the car," Koontz said. "I thought he was in his normal spot behind the driver's seat."
She had placed her drinks on top of the car before opening her car door. She thought her dog must have slipped away while she grabbed the beverages.
"I got home and realized he was gone and freaked out," Koontz said. "I drove right back to the restaurant."
It was roughly 9 p.m. March 24 when Cash ran off. To make the search even more difficult, heavy snowfall was hitting the area.
Koontz, who graduated from Tonganoxie High School in 2004, contacted her parents, Bob and Sandy Koontz, Tonganoxie, frantic about her lost dog, who is about 4 1/2 years old.
While Aubrey Koontz searched and searched for Cash, Eric and Carrie Shechter of suburban Nashville, Tenn., were driving near the Plaza. They were in the area visiting their daughter, Ashton, who is a student at the Kansas City Art Institute, when they spotted a dog in the road.
"It was dramatic," Carrie Shechter said. "It was snowing. The roads were horrible."
There also was a snowplow approaching, Carrie said. Eventually, their daughters Payton, 16, and Jordan, 23, hopped out of their vehicle to chase down this lost dog.
"We have two Pomeranians of our own," Eric Shechter said. "We would just be heartbroken if something happened to them."
The family then asked people in the area whether anyone had lost a Pomeranian, but their attempts to unite the dog with the owner were futile.
Koontz said Cash normally wears a collar — with identification tags. She was trying to get some sleep earlier that day and took the collar off because it was noisy. She said she forgot to put the collar back on him later that day.
The Shechters said they wanted to ensure the dog returned to its owner, but having the dog stay with their daughter in Kansas City in the interim wasn't an option. Pets aren't allowed in Ashton's dormitory.
"She can't even have a fish," Eric joked.
The family was scheduled to head back to Tennessee the next morning, so east they traveled with Cash in tow. After the 9 1/2-hour trip to Nashville, Carrie scanned the Internet.
Koontz had posted information about Cash on Facebook, Twitter and Craigslist, among other online outlets.
It was the posting on craigslist that Carrie found on March 25.
Eric called to let Koontz know that the family had Cash, but that they were in Tennessee.
"As soon as he said he had my dog, I started crying," Koontz said. "At least he was safe. I was worried he got hit by a car or run over by a snowplow and we never were going to find him."
Thanks to some frequent-flier miles the family had available, Aubrey and her mother departed Kansas City International Airport early March 26 for Nashville.
Sandy said they made signs that read "Cash's mom" to hold when they arrived at the Nashville airport, but they weren't necessary. Aubrey spotted her dog right away.
"I ran down the escalator," she said. "They were holding my dog.
"They were really sweet. I started crying. They cried."
Aubrey said several people told her that the situation likely was a scam.
She knew otherwise.
"There are still good people out there," she said. "They were trying to do the right thing. They never asked for money. They never asked for anything."
Aubrey gave the Shechters a dog toy, similar to Cash's favorite, for their dogs to play with.
After meeting with their new long-distance friends, Aubrey and Sandy headed back home.
Cash traveled with them in a carrier that fit below Aubrey's seat. They returned to Kansas City about 7:30 p.m. after a connecting flight from Atlanta. Cash didn't get too vocal during his first flying experience.
"When he's out of his element, he's quiet," Aubrey said.
The Shechters said they were glad everything worked out in the end. In fact, Carrie suggested they write a book about Cash the Pomeranian's travels.
Aubrey did document the adventure through her Instagram account with the hashtag of "bringcashhome."
Dog rescue stories aside, Carrie said it was a great experience meeting Aubrey and Sandy.
"They were the nicest people I met," she said. "We were lucky to come in contact with them."