THS

softball gets offensive in sweep of Bears
Chieftains score 30 runs in 11 innings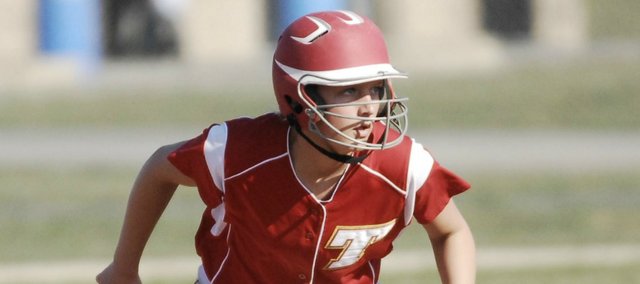 Adverse weather and poor field conditions have led to limited game opportunities for the Tonganoxie High softball team this season. The Chieftains finally got a chance to play Tuesday at Turner, and they took full advantage.
THS erupted for 30 runs in just 11 innings to sweep its Kaw Valley League opponent, 13-6 and 17-0.
After managing just one run in a doubleheader against Mill Valley last week, the Chieftains (2-2, 2-2 KVL) came out hot in Tuesday's opener. They scored 10 runs in the first three innings to take a 10-5 lead, and the Bears failed to rally down the stretch. THS added two more in the fifth and one in the sixth, while Turner scored just one run in the final four innings.
Morgan Oroke (1-1) got the win in the pitching circle, allowing just three earned runs on four hits in five innings of work. She struck out two batters and walked six in her first win of the season. Sammi Bates threw two perfect innings of relief, striking out two.
Oroke, Marissa Martin, Shelby McDaniel and Lainy Walker all had multi-hit and games at the plate. Walker led the way with two doubles and four runs batted in.
The Chieftains' offensive onslaught continued in the second game, which lasted just four innings. They opened with a three-run first, then put things out of reach with a nine-run second. They added two in the third and three in the fourth, and the mercy rule went into effect when Turner failed to answer.
Bates (1-1) threw four scoreless innings to get the win. She gave up just two hits and walked one while striking out two.
Walker, Savannah Bailey Jaycee Knipp and Caly Ingle-Maxwell each recorded two or more hits in the blowout win. Walker and Bailey drove in three runs apiece.
THS will return home for a Friday doubleheader against league rival Basehor-Linwood. The Bobcats swept the Chieftains in last year's meeting.
Game 1
TONG 253 021 0 — 13
TURN 032 010 0 — 6
Leading hitters: Marissa Martin 3-5, 2B, 2 RBI; Morgan Oroke 2-3, 2B, 3 RBI; Shelby McDaniel 2-5, 2 RBI; Lainy Walker 2-4, 2 2B, 4 RBI.
Game 2
TONG 392 3 — 17
TURN 000 0 — 0
Leading hitters: Lainy Walker 3-4, 2B, 3 RBI; Savannah Bailey 2-3, 2B, 3 RBI; Jaycee Knipp 2-3, 2B, 2 RBI; Caly Ingle-Maxwell 1-2, 2B, 2 RBI.