Late-inning heroics propels
THS

baseball past

BLHS

, 6-5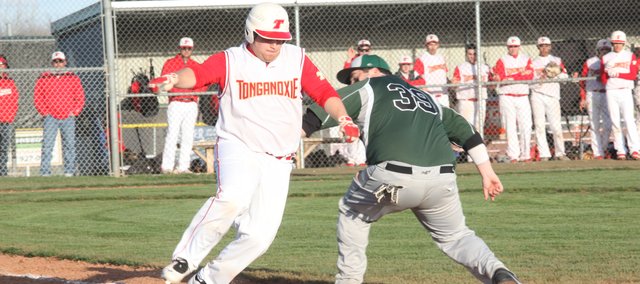 Tonganoxie rallied from down 5-1 to deal Basehor-Linwood's baseball team its second straight league loss on Friday, picking up the win in dramatic fashion.
At first glance, BLHS (1-3, 1-2 in the Kaw Valley League) appeared to regain the lead in the top of the seventh when senior Zac Hevel crossed home plate as THS dropped a throw to first. But the umpire awarded THS (2-5, 2-3) an inning-ending double play as senior Tanner Garver was called for interference on his slide into second.
It didn't take long for the Chieftains to seal it in their half of the inning.
THS junior Travis Woods led off the seventh with a single and junior Shane Levy doubled to put two runners on with no out. Moments later, senior Brett Shelton smacked an RBI single to seal a 6-5 win that cleared the THS bench into a celebration at the mound.
BLHS junior Avery Fliger pitched a one-hitter through 3 1/3 innings and BLHS had a 4-1 lead entering the fifth inning.
Freshman Garrett Draper hit a second-inning homerun and junior Bryan Crowe appeared to add a two-run homer in the fourth, but the umpire ruled him out after he failed to cross the plate. Senior Zach Joyce's preceding run, however, was still counted.
Senior Seagar Smith singled in Hevel in the top of the fifth to extend the Bobcats' lead to 5-1, but THS soon came alive.
Chieftains senior Cody Saladin and sophomore Colten Weaver each scored runs in a four-hit fifth that also featured a pair of BLHS errors. But the Bobcats forced a double play to end the inning and prevent further damage.
Senior Brett Shelton scored to pull THS within a run in the bottom of the sixth and Saladin's second run tied it at 5-5 off a single by Weaver.
THS will next play at Piper on Wednesday. Meanwhile, the Bobcats are scheduled to host a doubleheader against Bishop Ward on Monday.
Tonganoxie 6, Basehor-Linwood 5
BLHS: 210 110 0 — 5 8 6
THS: 100 022 1 — 6 9 1