THS

soccer comes up short vs. Baldwin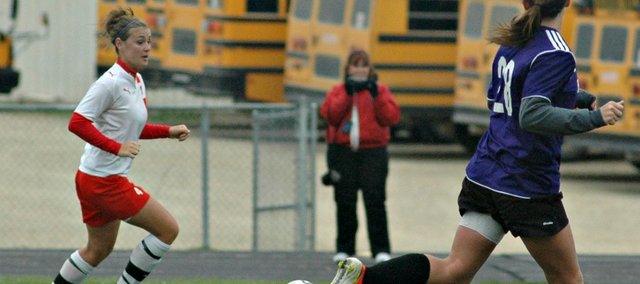 Baldwin 3, THS 2
First half scoring
Jessie Katzer (BAL), 23:37
Taylar Morgan (TON), 6:50
Second half scoring
Jessie Katzer (BAL), 16:20
Sierra McKinney (BAL), 12:48
Mackenzie Price (TON), 5:27
For the second time in four days, it looked like the Tonganoxie High girls soccer team would erase a two-goal deficit in the final minutes of regulation. However, when Baldwin paid a visit on Monday, the Chieftains weren't quite able to repeat history.
THS (3-5) got several scoring opportunities down the stretch, but came up just short in a 3-2 loss to the Bulldogs in non-league action.
"We had a lot of fight," coach Justin Seever said. "I was yelling at them 'we've been here before.' I think the light kind of came on. No team is going to be able to beat us if we play like that out of the whistle."
Both teams battled for possession early in the second half, but Baldwin's Jessie Katzer broke open a 1-1 tie with a breakaway goal with 16:20 remaining. The Bulldogs doubled their advantage less than four minutes later when Sierra McKinney scored on a penalty kick.
Despite falling behind by two goals, the Chieftains — fresh off a comeback win against Bonner Springs — didn't go down without a fight. Mackenzie Price, who came up just wide on a shot attempt after McKinney's penalty kick, cut the deficit in half when she bounced a shot off the right post and into the net with 5:27 left.
"That was huge," Seever said. "(Price) has been knocking on the door all year. We've kind of moved her around wherever we've seen a need, and she got a good look for us."
That's as close as THS got, though, as Baldwin's defense stiffened in the final minutes. Emily Soetaert broke free down the left side of the field with time running out, but her final shot was corralled with three seconds remaining.
The Bulldogs drew first blood when Katzer scored midway through the first half, but the Chieftains evened the score on a goal by Taylar Morgan with 6:50 left until the half. Neither team scored again before the break.
THS will return to its home field at 4 p.m. Tuesday for a meeting with Bishop Ward. The Chieftains handed the Cyclones a 4-1 defeat last Tuesday in Kansas City, Kan.
"The last time we played Ward, it was another kickball type of game," Seever said. "If we come out and play our game, we should get the result we're looking for. Hopefully, we'll come out mad and score two or three goals in the first 10 minutes."