THS

track and field hosts annual home invitational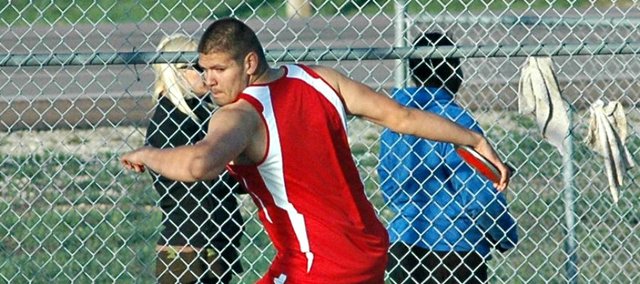 Related document
Despite the cold temperatures that have lingered in northeast Kansas throughout the first weeks of spring, several Tonganoxie High athletes were able to enjoy strong performances in front of a home crowd on Friday.
The Chieftain track and field team welcomed seven schools to Beatty Field for the annual Tonganoxie Invitational. The boys finished third in the team standings with a score of 100.5, while the girls took sixth with a score of 84.
Four event titles and several season-highs set the tone for the girls squad. Senior and reining state high jump champion Jenny Whitledge picked up her first title of the 2013 season with a height of five feet, four inches. Meanwhile, fellow seniors Hannah Kemp and Holley Thompson recorded season-bests to win the javelin (98-5) and discus (100-7), respectively.
Sophomore Jackie Whitledge rounded out the list of individual champs with a long jump title (16-2.5).
"I think the kids are starting to come into stride now," girls coach Chris Weller said. "If we can just get some good weather to practice in, it would be nice."
Kemp also took third in the 100-meter hurdles, crossing the finish line in 17.49 seconds. Junior Haley Griffin finished second behind Jenny Whitledge in the high jump (5-2), and sophomore Kourtni Freemyer took third in the pole fault (7-6).
The boys didn't have any individual titles, but combined for six top-three finishes. Junior Ben Johnson led the team with second-place showings in the 110-meter hurdles (16.47) and triple jump (41-5.5). Fellow junior Cody Snyder took second in the shot put (42-4) and third in the discus (134-2), while junior Andrew Behm and senior Seth Ahart took second (11-0) and third (10-6) in the pole vault, respectively.
Johnson added fourth-place finishes in the 300-meter hurdles (45.61) and high jump (5-10) to maintain his position as the team's top point scorer this season.
"Any time you have weather like we've had, the times won't necessarily be where you'd like, but the guys came out and competed well," boys coach Scott Peavey said. "As a coach, there's always more you would hope for, but as a whole, we have a lot of people putting in the work to keep improving."
The Chieftains will be back in action at 3 p.m. Friday at the Cardinal Relays in Eudora. The meet was originally scheduled for Thursday, but has been moved in anticipation of inclement weather. Several participating schools will be without their top athletes, as the meet conflicts with the annual Kansas Relays, which take place this week at Kansas University's Memorial Stadium.
"It just gives (other athletes) a great opportunity to capitalize on the moment," Peavey said. "That's all athletes can do. Some of these kids that are middle-of-the-road kids, they just need to go in and compete, and hopefully some good things will happen from a medal standpoint."
Jenny Whitledge and Griffin are the only Chieftains scheduled to participate at KU. Both will compete in the high jump, scheduled for 5:30 p.m. Friday.