THS

senior learns about space and more at camp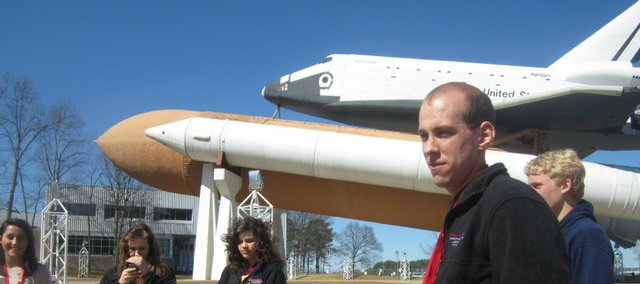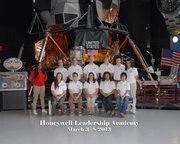 Wyatt Maurer might have taken a sneak peek at a future career, thanks to an invitation to a space academy last month in Alabama.
Maurer, a Tonganoxie High School senior, was accepted to the Honeywell Leadership Challenge Academy at the U.S. Space and Rocket Center in Huntsville, Ala.
There were 227 students from 30 countries and 26 states who participated in the academy.
The program is open to children of Honeywell employees — Wyatt's father, Andrew Maurer, is a senior mechanical engineer with the company.
Wyatt Maurer applied to the academy and was accepted based on answers to questions about his grades, school involvement and community service.
He plans to major in mechanical and aerospace engineering this fall at Kansas University and hopes to pursue a career in the aerospace industry.
Maurer said there wasn't a specific career in the aerospace business he wants to pursue at this point, but he said the academy provided a great experience.
For one activity, students split up into teams of 10-12 members in an effort to successfully simulate the launch and recovery of a space shuttle. Maurer said the mission was a success.
"We did very well," Maurer said. "Our team was working really well by the end of the week."
Students also built and launched rockets, participated in simulated jet-fighter pilot training and scenario-based space-walking missions and completed high- and low-ropes courses.
Guest speakers also visited the academy: retired astronaut Hoot Gibson, investor Tim Pickens and Black Hawk helicopter pilot Mike Durant. Durant was held prisoner for 11 days in 1993 after a raid in Somalia. His book, "In the Company of Heroes," was a New York Times bestseller.
"It was cool to listen to him and hear what he went through," Maurer said about Durant.
The experience also allowed Maurer to meet people from around the world, which he said was his favorite part of the experience.
"Because you realize a lot of them don't live a life much different than we do," he said. "It was cool to see that."
Maurer was one of four to attend from Kansas. Of the other three, two were from Olathe and the third from Overland Park.
"It was just an awesome experience," Maurer said. "It was one of those once-in-a-lifetime experiences that not many people get to have."