THS

soccer heats up in rout of Ward
Six Chieftains score in 8-1 victory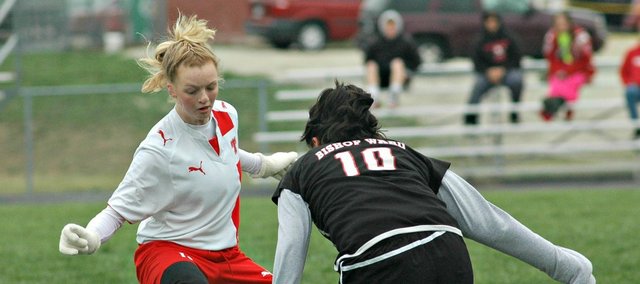 THS 8, Ward 1
First half scoring
Madison Simmons (TON), 14:01
Mackenzie Price (TON), 12:47
Leticia Rodriguez (BW), 1:09
Second half scoring
Madison Simmons (TON), 23:33
Morgan Galvin (TON), 22:24
Emily Soetaert (TON), 18:32
Morgan Galvin (TON), 9:48
Taylar Morgan (TON), 1:00
Emily Williams (TON), :02
Photo Gallery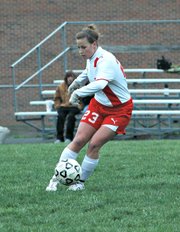 THS vs. Bishop Ward
The Tonganoxie High girls soccer team cruised to an 8-1 victory Tuesday against Bishop Ward.
Following Monday's 3-2 loss to Baldwin, Tonganoxie High coach Justin Seever hoped his soccer team would come out firing on offense in Tuesday's visit from Bishop Ward. The Chieftains took a while to get the gears turning, but once they did, the game was never in doubt.
THS blew open a one-goal game in the second half and rolled to an 8-1 victory against the Cyclones.
Despite dominating possession for most of the first half, the Chieftains (3-5) managed just a 2-1 lead at the break. They failed to pull away in the opening minutes of the second half, but broke through when Madison Simmons lofted a shot over the outstretched hands of Ward goalkeeper Lesslie Martinez with 23:33 remaining.
Simmons' goal, her second of the game, ignited a span of three scores in just more than five minutes. Morgan Galvin and Emily Soetaert also scored during that stretch to give THS a 5-1 lead.
Galvin scored again with 9:48 left, and Taylar Morgan and Emily Williams each added a goal in the final minute of play.
"It was kind of crazy," coach Justin Seever said. "It was 2-1, then we scored back-to-back to give ourselves a little breathing room. I kind of started watching the game and, all of a sudden, we had four more goals. Maybe I need to shut up more."
Seever's squad had several scoring chances in the opening half, but shot ricocheted off Ward defenders or sailed by the goal. Simmons finally broke through with a shot up the middle with 14:01 left until the break. Mackenzie Price doubled the Chieftains' lead less than 90 seconds later off a pass from Morgan.
When it was all said and done, six THS players recorded at least one goal. Galvin's two scores were her first of the season, while Morgan and Price each scored their second goal in as many days.
"That makes us feel a lot more confident about ourselves," Simmons said of the scoring balance. "It makes people want to take shots instead of passing the ball off to another person."
The Cyclones' only goal came on a breakaway by Leticia Rodriguez with 1:09 left until halftime.
The win against Ward is the second this season for the Chieftains. They won a 4-1 decision on April 9 in Kansas City Kan. Since the teams already played once this season, Tuesday's game had no bearing on Kaw Valley League standings.
The Chieftains will wrap up a stretch of three games in three days at 4:30 p.m. Wednesday at Kansas City Christian. The Panthers handed THS a 3-1 defeat in a regular season meeting last year.
"Based on matchups and scores, there's no reason we can't go beat them," Seever said. "We'll probably try to strengthen our defense up a little bit and just see what they look like. We're not really sure what to expect out of them."
More like this story