Tallent to play soccer at Ottawa University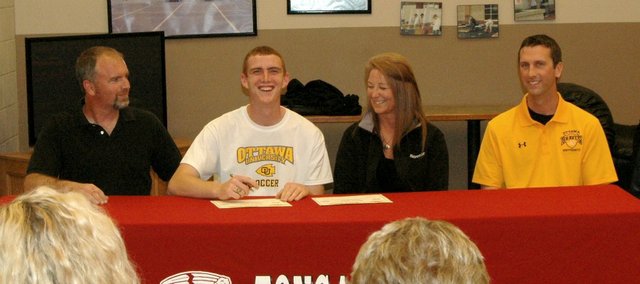 When Zack Tallent was made a soccer captain as a sophomore in 2010, he became a leader of a Tonganoxie High program that had only seen marginal success in its history. Three years later, he's helped transform it into one of the state's elite.
Tallent's memorable high school career came to an close at the state championship game in November, but his days on the field are far from finished.
With friends, family, coaches and teammates watching Wednesday in the THS Chieftain Room, Tallent signed a national letter of intent to play for Ottawa University.
"It's going to be so weird to watch the team and not have Zack out there, but there's a reason why they succeeded," THS athletics director Brandon Parker said. "That's the care they put in the program and the amount of work they did not only during the season, but out of the season."
The Chieftains went just 3-16 in Tallent's first year as a captain, but used a late surge to reach the regional championship game. Since then, THS has elevated to a level unmatched by any team in program history. In his junior and senior seasons, Tallent led the team to a combined 27-11-2 record, a Kaw Valley League title, two regional titles and Tonganoxie's first state championship appearance in any head-to-head team sport.
"The experience was unreal," Tallent said. "As a team leader, I thought it helped trying to get people together and connected. As a soccer team, we were really a family. It's been a good run."
Tallent was at his best at the end of his final season, scoring his only two goals of the year in postseason play. His second came in a 2-1 state quarterfinal win against De Soto that propelled the team to its first-ever state semifinals.
Following the season, he was awarded with an All-KVL first-team selection as a midfielder.
"Probably one of the best decisions I've ever made as a head coach was making Zack a captain," coach Brian Kroll said. "It's all about how much the players buy into what the coach is trying to get across, and you can't really do that without people you put in the roles of leadership. Zack was the perfect choice for that."
One of 11 seniors on the 2012 team, Tallent is the second to sign with a college program. He joins fellow captain Keaton Truesdell, who signed with Manhattan Christian College. Tallent joins an Ottawa team that went 12-7-1 under coach Bob Casper last season, including a third-place finish in the Kansas Collegiate Athletic Conference.
"I was looking for something local, and Ottawa was actually the closest choice that I had," Tallent said. "Coach Casper was really inviting and I thought all the facilities were nice, so that kind of weighed into my decision. I hope to contribute as fast as I can.
"I'm not afraid to step up and be the coach on the field. Even if I can't do that in the beginning, I know I'm capable. That really helps a lot."