Missed chances cost
THS

softball at Piper
Chieftains strand 14 runners in back-to-back losses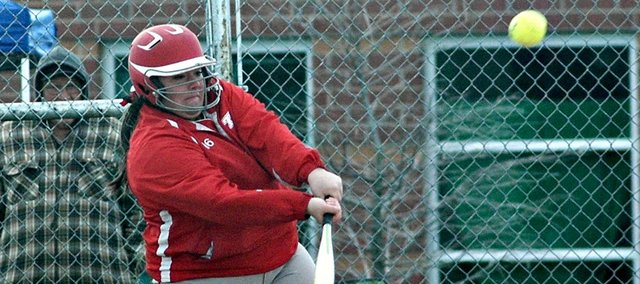 Kansas City, Kan. — Scoring opportunities weren't hard to come by when Tonganoxie High traveled Friday to Piper, but the team's lack of game experience took its toll early and often.
The Chieftains stranded a combined 14 runners as they were swept by their Kaw Valley League opponent, 2-0 and 13-5.
"We're still trying to put together a batting lineup," coach Stephanie Wittman said. "We're getting girls on and we're getting good swings at the ball, but we've just got to figure out how to transfer the good swings into powerful swings."
Tonganoxie's Morgan Oroke and Piper's Abby Henry found themselves in a pitcher's duel in opener, as the game remained scoreless through four innings. The Pirates broke through with a pair of runs in the bottom of the fifth to go in front for good.
THS (2-4, 2-4 KVL) got arguably its best scoring chance in the top of the third, but left runners at second and third. Henry settled in down the stretch, retiring 12 of the last 13 hitters she faced. She allowed just five hits while striking out three and walking none. A second-inning double by Lainy Walker was the Chieftains' only extra base hit.
Oroke took the loss in the circle, but limited PHS to seven hits while striking out two and walking two in a complete game effort.
"When (Oroke) is on the mound, it needs to be her game," Wittman said. "She was hitting her spots today and kind of throwing the batters off a little bit. That makes it easier on our defense and on her. If she's throwing less pitches, that's better for her."
The Chieftain bats came alive in the nightcap, as they opened the game with a two-run first inning. Walker drove in a run with a double, and Sammi Bates added another with an RBI single.
Piper took the lead with three runs in the bottom of the inning. Oroke tied it up with an RBI single in the second, but THS left the bases loaded.
The score remained even until the Pirates tagged Bates for four runs in the fourth. The Chieftains got back within two when Shelby McDaniel and Teal Waters each drove in a run in the fifth, but once again, Piper got out of the inning with the bases full.
Piper blew the game open with a six-run sixth that included six hits, and Tonganoxie couldn't put together a rally in the final inning.
"Like I told the girls, it's all about having the right timing, but also making plays when you're supposed to," Wittman said. "Unfortunately for us, Piper has girls on base with base hits, and that's how you score."
Bates went the distance, but allowed 13 hits and walked six in the loss. Piper's Ashley Laughlin got the win despite giving up 12 hits. Oroke, Walker and McDaniel all had multi-hit games.
THS will host Perry-Lecompton for a non-league doubleheader at 4 p.m. Tuesday. Adverse weather and poor field conditions have kept the Chieftains from playing at home yet this season.
Game 1
THS 000 000 0 — 0
PHS 000 020 X — 2
Leading hitters: Chelby Abney 1-2; Lainy Walker 1-3, 2B; Caly Ingle-Maxwell 1-3; Marissa Martin 1-3; Sammi Bates 1-3.
Game 2
THS 210 020 0 — 5
PHS 300 406 X — 13
Leading hitters: Morgan Oroke 3-4, RBI; Lainy Walker 2-4, 2 2B, RBI; Shelby McDaniel 2-4, RBI; Sammi Bates 1-4, RBI; Teal Waters 1-3, RBI.