THS

baseball surges into tournament week
Chieftains have won three of last four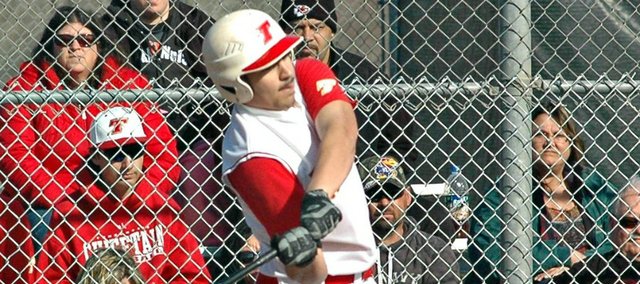 Related document
As their 5-16 record might have indicated, momentum escaped the Tonganoxie High baseball team throughout the 2012 season. However, with three wins in their last four games, the Chieftains seem poised to reverse their fortunes in the coming weeks.
THS improved to .500 in Kaw Valley League play in its only game last week — a 6-4 victory at Piper. The team managed just five hits in the contest, but took advantage of seven errors by its opponent.
A full week removed from their last action, the Chieftains (3-5, 3-3 KVL) jumped out to a 3-0 lead after two innings. James Grizzle drove in Connor Wentz-Hall on a sacrifice fly and Cody Saladin drew a bases-loaded walk in a two-run first, and Shane Levy added a run on an RBI double in the second.
The Pirates scored single runs in the third and fourth innings, but THS answered with two more in the fifth. Grizzle plated Levy with an RBI single and later scored on a Piper error. Ty Hampton added an insurance run with an RBI double in the seventh. Piper scored one run each in the sixth and seventh, but failed to regain the lead.
Travis Woods threw his third complete game of the season for the win. He allowed just one earned run on seven hits while striking out four and walking five.
"It was kind of an ugly game, but Travis was pretty good on the mound," coach Mitch Loomis said. "He started a little shaky but was real solid in the middle, then had a few walks late in the game. I tried to let him finish it and he ended up buckling down pretty good."
Woods also went the distance in the Chieftains' last win — a 6-5 victory against Basehor-Linwood on April 12. He has started in every THS victory this season.
Levy led the team at the plate, going 2-for-3 with a double and a triple. He was the only THS player with a multi-hit game.
The team continues to creep closer to a .500 record after starting the season with four straight losses.
"We're hitting very well, so we've just got to play better defense," Levy said. "We're working very hard on practice. (Loomis) tells us we're just that close to being really good. We've just got to make simple plays and do our job at the plate and we'll be golden."
The Chieftains will have several opportunities to improve its record this week. The road starts with a single game Tuesday at Lansing. They dropped a 7-4 decision to the Lions on April 9.
THS will also play three games in three days at the annual Butch Foster Memorial Classic, which starts Thursday. All games will be played at CommunityAmerica Ballpark, home of the Kansas City T-Bones. The eight-team field is comprised of four league and four non-league schools. For bracketing purposes, former KVL member Perry-Lecompton is considered a league school.
"As far as high school baseball games go, there's not a better opportunity," Loomis said. "For us to get to play three consecutive days in a minor league ball park, it's second to none. It's a neat opportunity for our kids."
The Chieftains will play Holton in the first round at 2:30 p.m. They handed the Wildcats a 5-3 loss in last year's seventh-place game. The winner will face the winner of Bonner Springs and Paola in Friday's semifinal round, while the losers will face off in consolation action.
"We have lots of momentum right now," Levy said. "As long as we're having fun, we'll build that confidence by winning. This is a very big tournament. We've never won in the first round, but I think we have a good chance to do that Thursday and to show people what we can do outside of our league."