Middle school student takes first place in art contest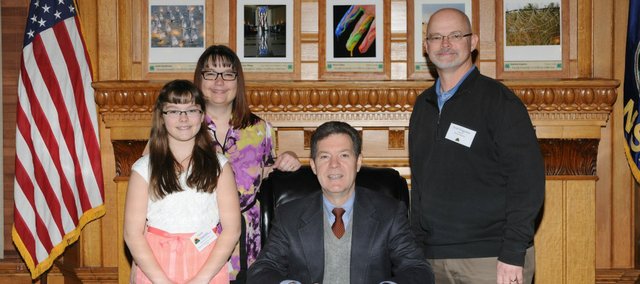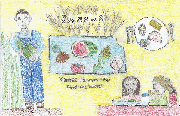 A Tonganoxie Middle School student has won first place in a statewide art contest.
Emma Grace Wogomon, a student at Tonganoxie Middle School, was awarded the first-place prize in the sixth-grade division of the Kansas Foundation for Agriculture in the Classroom and the Kansas State University College of Agriculture Postcard Art Contest.
KFAC and the College of Agriculture last month invited eight elementary students representing grades kindergarten through sixth to the Postcard Art and Teacher of the Year celebration on in Topeka. Jim Reimann, Assistant Kansas Secretary of Agriculture, and Don Boggs, associate dean for academic programs for the College of Agriculture at Kansas State University recognized the students. They also had a photo opportunity with Kansas Gov. Sam Brownback. Wogomon was awarded a certificate and received $50 and a framed copy of her artwork.
"We had wonderful artwork again this year," said Cathy Musick, KFAC executive director. "The students understood the theme clearly. We hope this fun contest will garner future agriculture advocates by showing them the impact agriculture has on their daily lives."
More than 1,300 students from across the state entered this year's contest by designing a postcard around the theme "Kansas Farmers Help Feed the World." Artwork was judged on aspects such as relevance to the theme, creativity, originality, use of color, use of space, and clarity of idea and image.
The Kansas Foundation for Agriculture in the Classroom has been hosting the contest since 1999. The winning entries from 2013 and previous years can be viewed on the Foundation's website at ksagclassroom.org, under the "For Students" tab. Packets of winning postcards are available for a $10 donation to the foundation. The order form is available online.