THS

Science Olympiad team has best finish in school history;

MHS

squad makes state in first year in inaugural year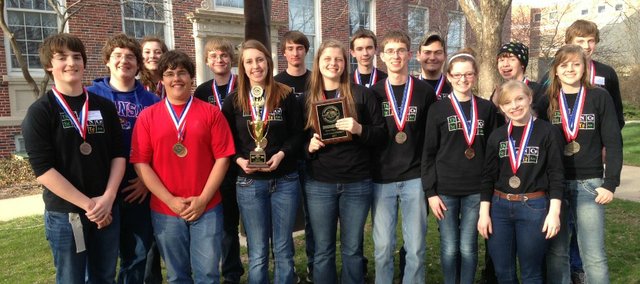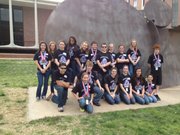 Tonganoxie and McLouth Science Olympiad teams hauled in plenty of awards at the State Science Olympiad competition April 6 on the Wichita State University campus.
Tonganoxie finished third overall in the small-school category, the program's highest finish ever. The team also placed eighth overall, while McLouth made its first appearance at the state event.
THS placed first in anatomy (Paige Lauri and Katelyn Waldeier), fermi questions Garrett French and Spencer Finkbiner), mag lev (Evan Stilgenbauer and Austin Harris) and material science (Celeste Bartels and Megan Briggs).
The team also placed second in astronomy (Finkbiner and Briggs) and third in thermodynamics (Ben Jacobs and Waldeier)
Other state team members were Halston Field, Jon Irwin, Danielle Irwin, Tyler Fraedrich, Jacob Tollefson, Jake Griffin and Sean Ketchum.
THS has been a fixture at the state tournament the last several years.
Lauri said it was bittersweet being on a team with the highest finish in school history.
"I was so excited for state," she said. "The trips and competitions are among my favorite experiences in high school. The team is like a family to me.
"We all worked so hard to get that third (place trophy) ... The trophy was not won by one person. The whole team factored in. And being able to do so well my last year was just an amazing feeling."
THS coaches are Tracey Waldeier and Christine Biel.
For McLouth, it was the district's first year competing in Science Olympiad. McLouth High School and McLouth Middle School teams both qualified for state, with 35 students competing at the event.
For the MHS team, taking second place in the boomilever competition were Colton Koch and John Courtney. Placing third in water quality were Darius Van Norstrand and Lena Mikalson. Wyatt Troupe and Kevin Gann also placed third in the gravity vehicle competition.
At the middle school level, Celia Taylor-Puckett, Tori Bristol and Katie Gill placed first in experimental design. Taking second place in the shock value competition were Zach Thomas and Brakson Ping. MMS also placed third in crime busters (Garrett Campbell and Donna Brauer), helicopters (Haylee Weissenbach and Brauer) and rocks and minerals (Celia Taylor-Puckett and Anne Gill).
McLouth Middle School team members are Tristan Funk, Lichen McHenry, Ashley Boyd, Ceara Funk, Brakson Ping, Justina Williams, Camryn Splichal, Zach Thomas, Kayleigh Boos, Tori Bristol, Katie Gill, Jacob VanDyne, Christian Haggett, Grace Hermann, Anne Gill, Campbell, Brauer, Weissenbach and Taylor-Puckett.
Mclouth High School team members are Jacob Bowman, Sarah Miller, Callie Rice, Kannon Petrie, Lauryn Splichal, John Courtney, Charlie Courtney, Olivia Evans, and Marc Walbridge, Koch, Mikalson, Gann, Troupe and Van Norstrand.
"We are extremely blessed in McLouth to have so many dedicated staff, parents and patrons," said Julie Splichal, McLouth coach. "Our common goal is to help kids meet their full potential."
Other coaches are Sara Booth and Julie Bergkamp.