Whitledge, Griffin jump well at Kansas Relays
Tonganoxie, McLouth teams compete in Eudora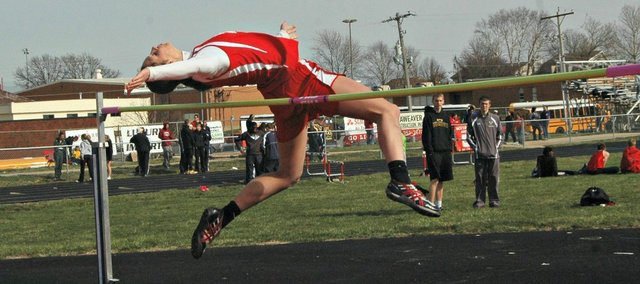 Cardinal Relays
Girls team results
Eudora, 95
Baldwin, 94
Piper, 77
Mill Valley, 76.5
Perry-Lecompton, 75
De Soto, 50
Pleasant Ridge, 50
Tonganoxie, 35.5
McLouth, 30
KC Christian, 13
Boys team results
Mill Valley, 131.5
Perry-Lecompton, 96
Tonganoxie, 73
Eudora, 72
Baldwin, 56
Piper, 55
Pleasant Ridge, 43
McLouth, 32
De Soto, 27.5
KC Christian, 26
Jenny Whitledge's final track and field season didn't start the way she'd hoped. With just one high jump title in her first three meets, her performance left something to be desired.
However, when she took to the field Friday at the Kansas Relays, she finally looked like a two-time state champion.
Whitledge didn't win the event, but she cleared a season-best height of 5 feet, 4.25 inches, to claim second place at a meet that annually features some of the state's elite jumpers.
"I didn't start off the year very well, and I know that," Whitledge said. "Now, it's just about hard work and getting more consistent."
Whitledge's teammate, junior and 2012 state runner-up Haley Griffin, tied Shawnee Mission East's Grace Pickell for third in the event. Griffin also reached a height of 5-4.25 — a new personal record — but finished behind Whitledge because she needed one more attempt to clear the bar.
Lawrence Free State junior Alexa Harmon-Thomas won the event with a jump of 5-8. She won the Class 6A state title in 2011 and finished second last season.
While Whitledge and Griffin were jumping at KU, several other Chieftains were in action at the Cardinal Relays in Eudora. The THS boys finished third with a team score of 73, while the girls took eighth with a 35.5.
Senior Seth Ahart brought home the boys' only individual title, winning the pole vault with a jump of 11-9. Meanwhile, sophomore Jackie Whitledge claimed the long jump title on the girls side with a jump of 16 feet even — nearly two feet farther than the second-place finisher.
Junior Ben Johnson earned second-place finishes in the high jump (5-10) and 110-meter hurdles (16.69 seconds) to amass 16 team points. Senior John Lean and sophomore Devan Smith added third-place finishes in the long jump (19-1) and high jump (5-8), respectively.
The boys also got solid performances from sophomore Garrett French, a third-place finisher in the 3,200-meter run (10:48.97) and junior Maleak Gibson. Gibson finished seventh in the 100-meter dash (11.64) and ran a leg of the third-place 4x100-meter relay team (46.4).
"For the most part, we responded very well, especially on the track," boys coach Scott Peavey said. "We tend to be a team that gets the majority of our points in the field portion, to put it mildly, but we had some guys really step up."
Senior Hannah Kemp was the girls' only other top-three finisher. She placed third in the 100-meter hurdles (17.4) and added a fifth-place finish in the javelin (96-11). Sophomore Kourtni Freemyer and senior Holley Thompson took fourth in the 400-meter run (1:09.3) and shot put (30-9.5) respectively.
THS will return to the track at 4 p.m. Friday at the De Soto Invitational.
"This is the time of year where you can kind of hit a little bit of a wall, but you hope to train through that and get where you want to be in the next two weeks," Peavey said.
McLouth High was also in action in Eudora. Senior Dakota Cop won the triple jump (40-1) and junior Drew Cerny took third in the 100-meter dash (11.37). On the girls side, junior Kayla Steffey took second in the 200-meter run (28.4) and third in the 400 (108.7). Sophomore Summer Cerny took second in the long jump (14-2) and senior Kaitlyn Hullinger added a third-place finish in the shot put (30-9.5).
Class 5A Mill Valley won the boys title with a score of 131.5, while host school Eudora took home the girls title with a score of 95.