Council votes to pursue light at Stone Creek Drive/South Park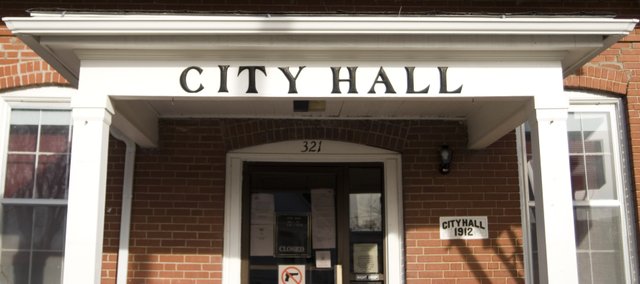 The Tonganoxie City Council has focused its attention on a traffic signal at U.S. Highway 24-40 and Stone Creek Drive/South Park.
The council and Tonganoxie residents have had lengthy debates since January when discussion about where traffic improvements should be made along U.S. Highway 24-40 started.
The council has been split on where the light should be installed — some said Laming Road and others preferred Stone Creek.
But after more than two hours of comments from residents at a special meeting Tuesday at the Tonganoxie Performing Arts Center, a council member who has favored a light at Laming Road switched gears.
Jim Truesdell made a motion to pursue traffic improvements at Stone Creek Drive/South Park.
The motion included asking city staff to pursue a traffic signal at Stone Creek Drive and South Park with no restrictive access at Laming Road. The motion also included intent to apply for emergency access funds in amendment to the corridor plan through KDOT. The motion also directed the mayor to write a letter to the corridor committee to request a meeting asking for consideration of an amendment to the plan.
Finally, the motion also called for the request of flashing warning lights just east of Tonganoxie for traffic heading west as an added safety measure.
Truesdell said information brought forward from the public — including reports that youths were crossing U.S. Highway 24-40 at Stone Creek Drive/South Park to access the retail center on the northwest corner of the intersection — helped shape his decision.
The council also was presented with nearly 1,500 signatures in favor of a traffic light at Stone Creek Drive/South Park.
"You've got to listen to the people, right?" Truesdell said after the meeting. "I've listened to all our experts and I agree with them. If KDOT doesn't go along with them, I'm back at Laming Road.
"One of my biggest concerns is the children."
Truesdell also said semi trucks delivering to businesses north of U.S. 24-40 with the Laming Road plan, which altered traffic options at Stone Creek Drive/South Park, also was a concern.
The motion passed, 4-0, with Chris Donnelly abstaining. Donnelly owns land on the northeast corner of U.S. 24-40 and Stone Creek Drive/South Park.
Dennis Bixby, former council member and current Leavenworth County Commission member, said that he was a member of the Mid-America Regional Council and would speak with local state legislators to help in the cause.
"They would help pursue this," Truesdell said. "I'm going to hold their feet to the fire."
Current corridor plans call for a traffic light at Laming Road. KDOT offered funding for all construction and 90 percent of engineering. If the city would have gone with that plan, it would have been responsible for about $180,000.
Residents in South Park, Stone Creek and Jackson Heights subdivisions voiced concerns about the Stone Creek Drive/South Park intersection being the most dangerous. Business owners at the intersection had concerns about what that traffic configuration would mean to business. Plans called for no left turns or traffic across U.S. 24-40 from Stone Creek Drive or South Park. A frontage road parallel to and south of U.S. 24-40 connecting South Park and Laming Road also was planned.