Tonganoxie resident completes training with second service dog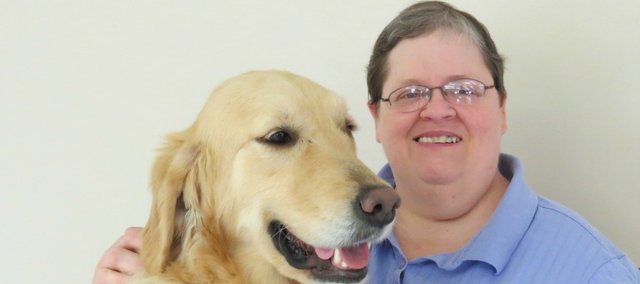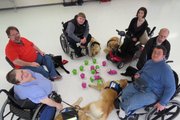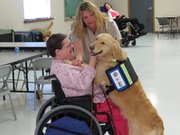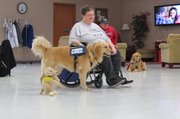 Rose Mary Gergick could count on her golden retriever, Denim, whenever she needed help.
In 1997, the Tonganoxie resident suffered a brain aneurysm that left her paralyzed on her left side.
She was paired with Denim in 2007 through Kansas Specialty Dog Service, which now simply is known as KSDS, a non-profit organization in Washington, Kan., that trains social, service and guide dogs. Golden retrievers and Labrador retrievers are paired with people at no cost to the recipients.
Roughly 10 years after suffering the aneurysm, Gergick looked into options. She worked for Tonganoxie veterinarian Kyle LaRosh for several years. Information about the organization had been dropped off at LaRosh's office years ago.
"I stuck the pamphlet in the back of my appointment book," Gergick said. "I moved it from appointment book to appointment book, not ever thinking that someday I would need a dog."
Then came the day that Gergick decided a service dog would be beneficial.
"It just was getting steadily worse," she said. "Harder and harder to move around. There were a couple times I had fallen in the middle of the night.
"I couldn't get to my phone. A service dog could do that sort of thing and allow me to be by myself and more safe."
Denim, a service dog, went through training with Gergick at the age of 3. After training, they graduated from the KSDS program, and Denim became Gergick's trusty companion in Tonganoxie. He was by Gergick's side around the clock.
"First of all, every time I dropped something, if he heard something hit the floor, he came running," Gergick said. "And was eager to pick it up."
But last September, Gergick lost her devoted companion. Denim died of bone cancer. It was difficult not having her loyal friend by her side.
"Probably one of the bigger things he did was pull my manual wheelchair," Gergick said. "The first few times you go to Walmart, you realize just how much that dog was helping you pull that chair. Everything was 10 times harder without him."
Denim also offered a sense of security. As Gergick mentioned, there were instances when Gergick would fall in the middle of the night. Denim could retrieve the phone for her or pick up other things.
In February, Gergick received a call from KSDS. The current waiting list for placing dogs is about two years, said Glenda Keller, CEO of KSDS, but graduates who need successor dogs are moved to the front of the line.
"We are having people come back for their third dog," Keller said. "We're expanding our program because we could exist by only doing successor dogs. And we want to be able to take in new clients."
Earlier this month, Gergick was paired with a second golden retriever, a female named Celica.
Litters of puppies at KSDS are named according to different themes.
Debbie Tegethoff, guide dog training instructor, said Denim was part of the "blue" litter, while Celica was born into the "fast cars" litter.
Gergick and Celica trained together for two weeks. Training for the first few days focused on clients bonding with their dogs. Clients hand fed their dogs. No one else provided any attention to the dogs. Also during the first few days, the dogs and clients worked on properly using commands. During the second week, the dogs and the clients worked on getting on and off elevators and interactions in public, including a visit to the Manhattan Town Center in Manhattan, which is roughly an hour from Washington. Training concludes after dogs successfully perform a number of tasks with the clients. At that point, the dogs become certified.
Gergick's graduating class had three other service dogs and two guide dogs. The ceremony took place April 13.
Gergick said she was grateful to have Celica by her side. She also mentioned the importance of puppy raisers. The volunteers receive the puppies when they are 8 to 9 weeks old. They teach all the basic commands, train the dogs to be housebroken and then give them back to KSDS for placement when the dogs are anywhere from 18 months to 2 years old.
"That's a pretty selfless thing to do," Gergick said.
While Gergick trained with Celica, she stayed in housing KSDS built in the last year. Previously, students stayed at a motel in Washington for the training. She said the lodging was a plus.
"That was so much nicer," she said. "Easier and nicer.
"It's up to code. They're built exactly for us."
Keller said KSDS plans to increase its staff with an assistant apprentice trainer who will be a trainer after three years. The organization also is in the process of building a second training center.
KSDS' staff consists of five trainers and other support staff.
Tegethoff said the dogs are valued at about $25,000 based on costs of training, veterinarian checks and housing. There is no cost for the people with whom the dogs are paired, Tegethoff said.
"Thanks to sponsorships and corporate sponsors, we're able to still meet the needs without charging the families or individuals," Keller said, noting fundraisers take place throughout the year as well.
Generally KSDS has three graduations each year, with about 20-25 dogs being placed annually. The organization started 22 years ago and has placed dogs with people in 32 states. The farthest destination was Alaska where a guide dog was placed.
Tegethoff said most of the service dogs are placed with people who have multiple sclerosis, muscular dystrophy, arthritis and cancer. Several dogs are placed with paraplegics.
For more about KSDS, including information about touring the organzation's campus, call 785-325-2256.