THS

baseball comes up short in tourney opener
Seven-run sixth not enough as Chieftains fall to Holton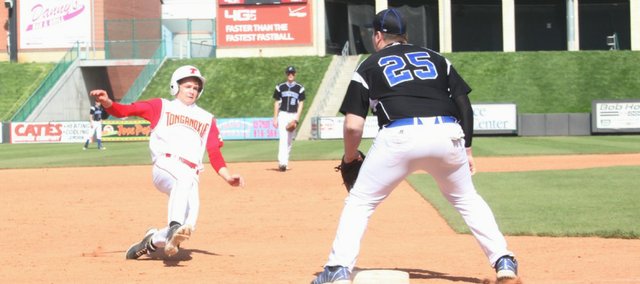 After struggling to find offense early in Thursday's meeting with Holton, Tonganoxie High finally broke through with a big sixth inning. Unfortunately for the Chieftains, the Wildcats had already done enough to weather the storm.
A seven-run sixth wasn't enough to erase an early deficit as THS fell in the first round of the Butch Foster Memorial Classic at CommunityAmerica Ballpark, 12-9.
"We just didn't play very good for six and a half innings," coach Mitch Loomis said. "You can't dig a hole that big against anyone."
The Chieftains (3-6) played the Wildcats to a 2-2 tie after three innings, but Holton went in front with a five-run fourth. The Wildcats seemingly put the game out of reach with four more in the sixth, giving themselves a 11-2 lead.
However, THS came alive in the home half of the inning, using a big two-out rally to draw within two runs. Travis Woods scored on an error and Brett Shelton came on a single by Colten Weaver, then Brady Swedo plated Billy Kelley, Ty Hampton and Weaver on a bases-clearing triple. Connor Wentz-Hall later drove Swedo in with a single and scored on a passed ball to make it 11-9.
"Our two-strike mentality was a lot better in that inning, but in a seven-inning game, that's not going to be enough," Loomis said.
Holton gave itself an insurance run in the seventh when Andrew Rieschick scored on a passed ball, and THS failed to answer in the bottom of the frame.
The Wildcats drew first blood with a run in the first inning off Chieftain starter Brett Shelton. Shelton retired the first two hitters he faced, but walked the next four. Holton added another run in the third on a sacrifice fly by Jaxon Wright to double its advantage, but THS tied the game in the bottom of the inning with RBIs from Weaver and Shane Levy.
Shelton took the loss on the mound. He walked five and struck out four over three innings. Wentz-Hall took over with two runners on in the third and pitched the rest of the game.
"When the pitching's not there, the defense and the hitting have got to be good," Loomis said. "We let our poor pitching performance affect the rest of our game."
Weaver and Kelley each had multi-hit games to lead THS at the plate. Both went 2-for-4 with a pair of singles. Swedo's triple was the team's only extra-base hit.
The Chieftains will play Bonner Springs in consolation action at 5 p.m. Friday. The Braves dropped a 10-5 decision to Paola in their first-round game.
Holton 12, Tonganoxie 9
HHS 101 504 1 — 12
THS 002 007 0 — 9
Leading hitters: Colten Weaver 2-4, RBI; Billy Kelley 2-4; Brady Swedo 1-3, 3B, 3 RBI; Shane Levy 1-3, RBI; Connor Wentz-Hall 1-3, RBI.