THS

baseball drops two in final day of Butch Foster play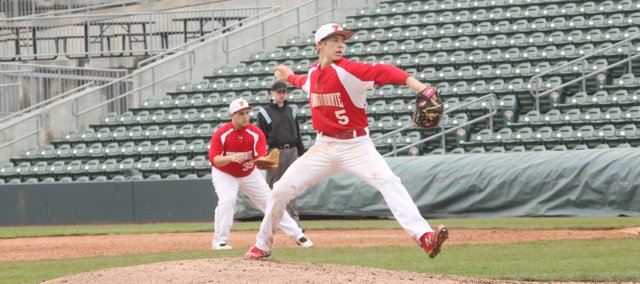 The final day of Butch Foster Memorial Baseball Classic wasn't kind to Tonganoxie as the Chieftains fell victim to a pair of late surges by Kaw Valley League opponents on Saturday.
Bonner Springs senior Luis Gardea ripped a game-winning single to defeat THS, 5-4, in eight innings in the first game of the day, which had been postponed because of rain on Friday.
THS sophomore Justin Wagner struck out nine batters through seven innings of work in the loss, and sophomore Brady Swedo went 2-for-5 with a pair of RBIs. Still, BSHS used a pair of two-run innings to send THS to the day's seventh-place game against Basehor-Linwood.
Against the Bobcats, Tonganoxie opened a 2-1 lead through three innings before BLHS sophomore Ashton Lindley hit an RBI double and junior Bryan Crowe's two-run double began to build separation. BLHS added runs in each of the game's remaining innings to hand THS a 12-5 defeat, dropping the Chieftains to 3-7.
Bonner Springs 5, Tonganoxie 4 (eight innings)
THS 100 001 11 — 4
BSHS 100 000 22 — 5
Bonner Springs highlights: Gardea, 2-for-3, RBI, SB; Terrell, 2-for-4, 2 SB; T. Glenn, 1-for-4, 2B, 2 RBIs; McDonnell (1-for-2, RBI; Byers, 1-for-3, RBI, 2B; Hernandez, 7 IP
Tonganoxie highlights: Swedo, 2-for-5, 2 RBIs; Levy, 3-for-4, RBI, 2B, 2 SB; Kelley, 3-for-3; Weaver, 3-for-4; Wagner, 7 IP, 9 Ks
Basehor-Linwood 12, Tonganoxie 5
BLHS 001 423 1 — 12
THS 200 030 0 — 5
Basehor-Linwood highlights: Hevel, 3-for-5, 3 SB; Garver, 3-for-4, 2B, RBI; Smith, 3-for-4, RBI; Ruffcorn, 3-for-4; Gilliam, 3-for-4; Findley, 3-for-5. 2B, 2 RBIs; Crowe, 1-for-2, 2B, 2 RBIs; Joyce, 2-for-2, 3 RBIs
Tonganoxie highlights: Levy, 2-for-3, 2B; Grizzle, 2-for-3, 2B, RBI; Shelton, 2-for-3, 2B, 2 RBIs