Golfers improving as postseason nears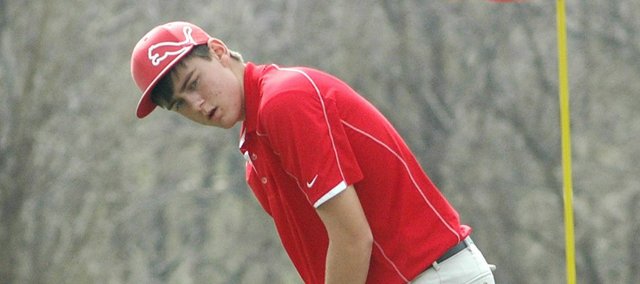 Consistent improvement has been a theme for the Tonganoxie High golf team in recent weeks. The Chieftains continued that trend Thursday at the Atchison Invitational, finishing with a season-low team score of 326.
A pair of top-10 finishes propelled THS to its third top-three finish of the season. The team finished third behind Piper (299) and Bonner Springs (315). Tonganoxie has improved its team score in each of its last four tournaments.
Junior Drew Sandburg led the charge once again with a season-best 76 — good enough for sixth place in the individual standings. He was joined in the top 10 by senior Aaron Williams, who finished ninth with a 79. Both golfers have shot less than 80 in each of their last two outings.
Senior Tyler Hall also enjoyed a solid tournament and just missed the top 10 with an 80.
"This is what we've expected and about where we expect them to be," coach Jared Jackson said. "What we're looking for is consistency out of those three. I told them coming into this year 'we're going to use your scores every time out.' I think they've bought into that concept and I hope we can continue to build on that."
Bonner Springs' Tristan Abts won the individual title with a 72.
Seniors Zack Tallent and Conner Kietzmann and junior Austin Harris wrapped up tournament play with scores of 91, 92 and 93, respectively.
The tournament took place at Bellevue Country Club, where the Chieftains will return for regional action on May 13.
"It's good to see and remember the design," Jackson said. "For three of our kids, that's the first time they've seen the course, but we'll see a different course at regionals just because of distance. What really sets it apart is being able to handle the pressure of the moment.
The team sent a split squad to the Ottawa Invitational on Monday. The full varsity team will be back in action at 3 p.m. Thursday at the Junction City Invitational — its final competition before next week's Kaw Valley League tournament.
"The league field is the best I've seen in my six years by far," Jackson said. "For us, it's a transition into meaningful golf," Jackson said. "We want to win league and go win our regional, so we kind of transition into a postseason mindset."
Overall team results
Piper, 299; 2. Bonner Springs, 315; 3. Tonganoxie, 326; 4. KC Christian, 334; 5. Lansing, 338; 6. De Soto, 340; 7. Maur Hill, 350; 8. Basehor-Linwood, 354; 9. Bishop Ward, 389; 10. Atchison, 393; 11. Hiawatha, 394; 12. Royal Valley, 433.
Top 10 individual results
Tristan Abts (BON), 72; 2. Eric Pahs (PIP), 73; 3. Charlie Rinehart (PIP), 75; 4. Alec Wuellner (PIP), 75; 5. Marc McClain (BON), 75; 6. Drew Sandburg (TON), 76; 7. Montana Fashing (PIP), 76; 8. Christian Bickley (KCC), 78; 9. Aaron Williams (TON), 79; 10. Luke Streeter (KCC), 79.