Five Questions: Sampling Kansas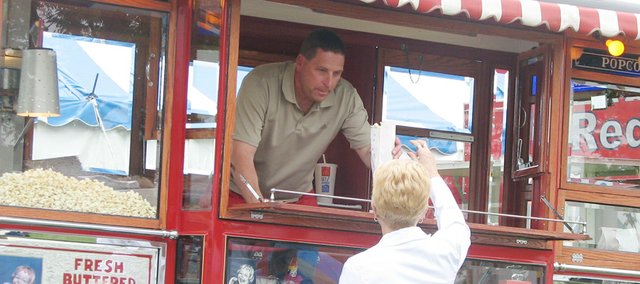 The 24th annual Kansas Sampler Festival is Saturday and Sunday in Liberal. This week's five questions come from the festival's website, kansassampler.org/festival.
Q: How did the festival get started?
A: In 1990, Mil and Marci Penner had a book signing party for their first Kansas guidebook, "Kansas Weekend Guide." They invited places in the book to come help support the purpose of the book, which was to inspire travel throughout Kansas. These attractions filled one big tent. The event became the Kansas Sampler Festival and took place annually from 1991-97 on the Penner farm near Inman.
To introduce more people to festival exhibitors from across the state, the festival moved from city to city on a two-year rotation starting in 1998-99 in Pratt. Kansas-made products and activities from across the state are put on display each year at the festival.
Q: When does the event take place?
A: The Kansas Sampler Festival always takes place the first weekend of May.
Q: What can visitors find at the festival?
A: More than 100 Kansas communities telling what they have to see and do, entrepreneurs selling Kansas-made products and food, cultural heritage demonstrations and displays, Kansas entertainers performing, historical performances and trivia sessions about Kansas.
Q: Has the festival ever taken place in this area?
A: In 2010 and 2011, the event took place at Ray Miller Park in Leavenworth. Attendance of 8,500 in 2010 was the highest attendance of any Sampler Festival.
Q: Where have previous Kansas Sampler Festivals been?
A: Pratt (1998-99), Ottawa (2000-01), Independence (2002-03), Newton (2004-05), Garden City (2006-07), Concordia (2008-09), Leavenworth (2010-11) and Liberal (2012-13). Wamego will be the host in 2014 and 2015. Bid information for 2016 and 2017 festivals will be announced in January 2014.