Following rough tournament, Chieftain baseball splits with Cyclones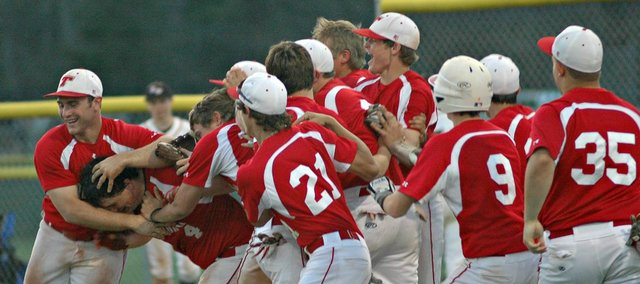 Last week's Butch Foster Memorial Classic didn't quite go as the Tonganoxie High baseball team had hoped. The Chieftains lost three games in two days, finishing last in the eight-team field.
According to senior Brett Shelton, coach Mitch Loomis has a saying for such an occasion: "Who cares? Next pitch."
That short-memory mentality was visible in Monday's visit from perennial power Bishop Ward, as the Chieftains split a Kaw Valley League doubleheader with the Cyclones, losing 4-2 and winning 4-3.
"We're always just looking forward to our next opponent," Shelton said. "It was just great to beat Ward."
After dropping the first game, THS (4-9, 4-3 KVL) grabbed a 1-0 lead in the second inning of the nightcap. Bishop Ward answered with a three-run third off Chieftain freshman Tyler Novotney, but RBIs by Shelton and James Grizzle tied the game in the fifth.
Connor Wentz-Hall hit a one-out single in the seventh and pinch runner Tyler Zinser moved to third on a hit by Grizzle, bringing Shelton to the plate with runners on the corners and two outs. The senior infielder hit a deep grounder to third and reached safely on an error, giving Zinser enough time to score the winning run.
"As long as you get the run across the plate, it doesn't matter how you get it home," Shelton said.
Novotney went the distance in the first varsity start of his career. He allowed two earned runs on five hits while walking two and striking out four.
"Our pitching staff is a little bit in shambles," Loomis said. "(Novotney) was kind of a before-the-game decision. We thought we'd see what he has and he more than impressed. He was excellent."
Loomis' squad played the Cyclones close in the first game, but Ward built a 4-0 lead after 5.5 innings and hung on for the win. Shane Levy got THS within one with a two-run home run in the bottom of the sixth, but BWHS extinguished the comeback attempt.
The Chieftains welcomed Baldwin to town on Tuesday for a non-league game. They'll return to action Thursday with a pair of games at Bonner Springs. The Braves handed THS an eight-inning, 5-4 loss in tournament play last week.
"We've just got to understand that, all the little things we did well (Monday) night, we've just got to keep doing those things," Loomis said. "We can play just about anybody when we do all that."
Game 1
Bishop Ward 000 211 0 — 4
Tonganoxie 000 002 0 — 2
Leading hitters: Connor Wentz-Hall 2-4; Shane Levy 1-4, 2 RBI, HR.
Game 2
Bishop Ward 003 000 0 — 3
Tonganoxie 010 020 1 — 4
Leading hitters: James Grizzle RBI; Brett Shelton RBI.