THS

softball gets offensive in sweep of Bishop Ward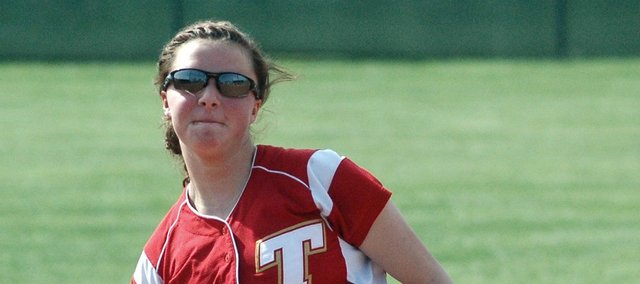 It took quite a while for the Tonganoxie High softball team to finally see live competition on its home field, but the long wait has seemingly paid off.
The Chieftains pushed their win streak to four games and improved to 4-0 at home with back-to-back wins Monday against Bishop Ward. They racked up 37 runs in just nine combined innings, beating the Cyclones by scores of 16-4 and 21-4.
"Practice makes perfect, and that's kind of what we go by," senior Savannah Bailey said. "We make sure we're there 110 percent, and it really showed."
THS (6-4, 6-4 Kaw Valley League) grabbed an early lead in the opener with a three-run first inning. Ward answered with a run in the top of the second, but the Chieftain offense blew the game open with eight runs in the bottom of the frame.
The lead grew to 14 when Tonganoxie tacked on four more runs in the third. The game almost ended after three innings, but the Chieftains stranded a runner at third base, leaving the deficit at 14 runs.
The Cyclones didn't go away quietly, as they scored a pair of runs in the fourth to make it 15-3. THS got one run back in the home half of the inning and Ward scored one more in the fifth, but the mercy rule went into effect when BWHS failed to get within 10 runs.
Sammi Bates and Marissa Martin led the way at the plate with three hits each. Six Chieftains had multi-hit games in the victory.
"We had to do some situational things, but it's good when you know that one through nine can put a ball in play with runners on," coach Stephanie Wittman said. "That's a good feeling as a coach when you know that anybody can swing the bat."
Morgan Oroke got the win in the pitching circle. She allowed five hits while striking out five and walking six in five innings.
The offensive onslaught continued into the second game, which THS opened with an 11-run first. The Chieftains drew seven walks and pounded out four hits in the frame. They kept their foot on the gas and opened up a 16-2 lead after three innings.
Bishop Ward scored two in the top of the fourth, but THS answered with five more runs to end the game. Bailey, who went a perfect 4-for-4 in the doubleheader, capped off the victory with a three-run, inside-the-park home run.
Bailey, Oroke, Caly Ingle-Maxwell and Jaycee Knipp each recorded two hits.
Like Oroke, Bates enjoyed a solid pitching performance. She allowed just four hits, struck out eight and walked none in four innings of work.
"They were definitely hitting their spots," Wittman said of the team's starting pitchers. "You've got to know the team you're playing against, and when you can take a few pitches as possible and strike girls out, that's going to help."
THS will continue its homestand at 4 p.m. today with a non-league doubleheader against Perry-Lecompton, then it will travel Thursday to Bonner Springs for a pair of KVL games.
"We're going to start playing three-game weeks from here on out," Wittman said. "We're just hoping we can catch our downhill slide of the season on a good note. That just means staying healthy, hitting the ball and playing good defense."
Game 1
Bishop Ward 010 21 — 4
Tonganoxie 384 1X — 16
Leading hitters: Sammi Bates 3-4, 2B, RBI; Marissa Martin 3-4, 2 RBI; Savannah Bailey 2-2, 2 RBI; Morgan Oroke 2-3, 2 2B, RBI; Lainy Walker 2-3, 3B, RBI; Jaycee Knipp 2-4, 2 RBI.
Game 2
Bishop Ward 020 2 — 4
Tonganoxie (11)23 5 — 21
Leading hitters: Savannah Bailey 2-2, HR, 4 RBI; Caly Ingle-Maxwell 2-3, 3 RBI; Jaycee Knipp 2-3, RBI; Morgan Oroke 2-3, RBI; Lainy Walker 1-2, RBI; Shelby McDaniel 1-3, 3 RBI.