Leavenworth County Fair schedule: Day 5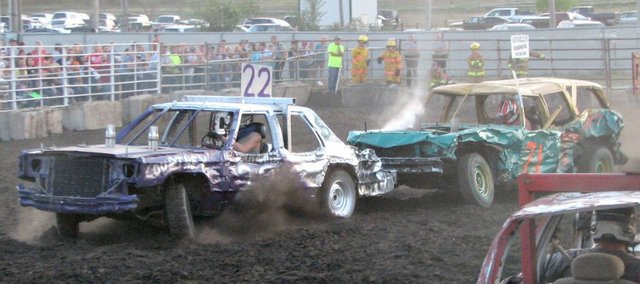 4-H, OPEN CLASS AND OTHER ACTIVITIES
8:30-9:30 a.m.
4-H Horticulture Judging Contest
(Green Metal Building)
10 a.m.
Ag Olympics—Sponsored by Bell 4-H Club
(Big Tent)
10 a.m.-noon
4-H Dog Agility Show
(Livestock Show Arena)
11 a.m.–12:30 p.m.
Turtle Race registration, limit one turtle per child, Big Top Tent,
Bill Adams, superintendent (913) 306-5181
1 p.m.
Turtle Races, Big Top Tent
2 p.m.
Kids Pedal Tractor Pull
ENTERTAINMENT
6:30 p.m.
Demolition Derby, Grandstand
Admission: $10 for adults, $5 for youth 6-12 and free for children younger than 6 years.
MASTER GARDENER ACTIVITIES
• 10am-2pm.-How Do Plants Grow?
• A presentation and project for kids to see how a seed develops and names and functions of the different parts of the plant. Take home a lima bean with directions about how to grow it without soil. Do a crayon leaf rubbing and then use it to identify the tree.