Area 4-H member is four-time grand champ in market beef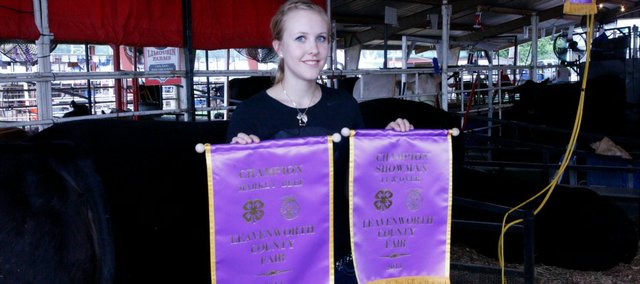 Jody Baragary's market steer, Slider, might be considered a bit small against the competition.
But he came up big in the Leavenworth County Fair beef show.
Slider and Baragary won grand champion in the market beef show — Baragary's fourth title in the prestigious category — last week at the Leavenworth County Fairgrounds in Tonganoxie.
Baragary named her steer Slider, as in a miniature hamburger. He only weighed 1,160 pounds at weigh-in.
"That's definitely small," Baragary said.
Steers generally weigh between 1,200 and 1,400 pounds, with a weight in the 1,300s being ideal, Baragary said.
Baragary, a member of Happy Helpers 4-H Club, also was champion in senior showmanship and her heifer was named supreme champion.
Judges have told Baragary the awards don't happen in the show arena, they happen at home. She said she's taken that to heart.
"I put a lot of time into it," Baragary said. "I don't do anything else (in the summer)."
Baragary generally was up at 5:30 a.m. to rinse off and feed her five beef animals before putting them under fans. She then went to her regular job of babysitting during the day. At night, she rinsed and fed the animals before cleaning all of their pens. She usually starts about 8 p.m. and finishes at 9:30 p.m.
"It doesn't sound like very much, but it is," she said. "I just kind of put in the daily work and it pays off."
Baragary first won grand champion in market steer in 2008. Her brother, Austin, won in 2009. She won the next two years before Seth Beying of Happy Hollow 4-H Club won last year. Seth attends Pleasant Ridge Middle School.
Baragary said she's enjoyed working with Slider because it allows for quality time spent with her father, Bill. She also said she's honored that it's a feat her brother also accomplished.
"It's definitely cool, I'm not gonna lie," she said.
Baragary, who graduated from Tonganoxie High School in May, will major in animal science at Kansas State University when classes start later this month. She hopes to be an embryologist after graduating from K-State.
As for her beef show career, she's eligible for a final time at the 2014 Leavenworth County Fair. She's undecided whether she has "retired."
"I think I'm going to end on a high note, but I'm not for sure yet," she said.