Fair pie baking contest raises almost $600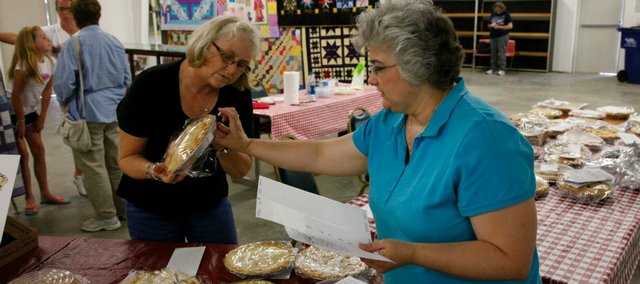 Chris McMillian hasn't baked a pie in years.
That changed thanks to her entry in the Leavenworth County Fair.
McMillian, 85, of Leavenworth, entered blue-ribbon-winning pies in the Wyandotte County Fair back when she lived in the neighboring county.
When she took a look at names other entrants, she noticed the name Dan Jones.
She wondered whether it was the same Dan Jones who asked for her pie crust recipe years ago at her church. McMillian, after all, was known for her ribbon-winning pies at the Wyandotte County Fair.
She said that though she likes to bake for others, she hadn't made a pie in years. She saw information about the Leavenworth County Fair's inaugural pie-baking contest and decided to give it a try. She made an apple pie, and was ever the perfectionist.
"It didn't turn out the way I wanted it to," she said about her pie.
Hers was one of 34 entered in the contest, including 10 in the youth division.
Debbie Hazelbeck, formerly of Basehor, judged the pies. She entered a strawberry, blueberry and banana pie and a raisin pie in the national pie contest and used some of those judging guidelines for Friday's contest.
She judged on things such as presentation, crust, taste and whether they were baked just the right amount of time.
"They're very varied," Hazelbeck said. "Most of them were pretty good pies."
She said judging 34 pies was a task.
"I was so full of pie, I'm telling you," she said. "I had pie up to my eyelids. I don't want to see another pie in so long."
Taking first place in the adult division was Jennifer Lawrence, Kansas City, Mo., with her Peachy Keen Pie. Second place went to Lawrence's grandmother, Judy Hattok, Leavenworth, with her I Cannot Tell A Lie Cherry Pie. Freda Walker, Leavenworth, placed third with an apple pie.
In the youth division, which was open to anyone 18 and younger, Maggie Schwartz, 15, Leavenworth, placed first with her deep dish cherry pie. She will be a sophomore at Pleasant Ridge High School. Second went to Rileigh Little, 9, Tonganoxie, for her nectarine pie. Matthew Schmidt, 10, Easton, placed third with an apple pie.
Those six pies were auctioned off before Friday's livestock auction in the show arena. The rest were sold for $10 each. The event, which benefited the Leavenworth County 4-H Foundation, netted nearly $600. Proceeds help pay for 4-H scholarships for high school seniors, transportation to 4-H camps and overall contributions to other 4-H events.
Patty Scharinger, who with Crystal Miles worked the event, said the first contest was a success. Participants already were inquiring about next year's contest.
"We were very, very pleased with the support and turnout from it," Scharinger said. "It was kind of interesting. There were some family rivalry (in multiple family members entering the contest) and I think that kind of helped spark interest."