Mom, daughter open dance studio in Tonganoxie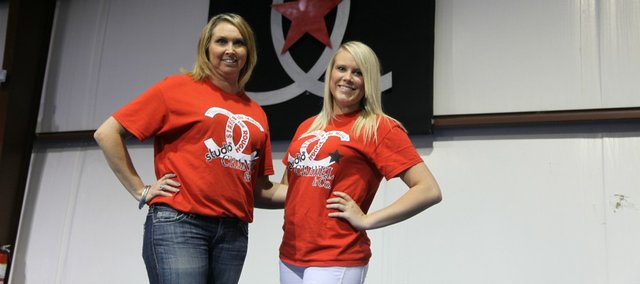 Rynette Reiling and her daughter, Chanel Reiling, had a grand plan to open a dance studio after Chanel finished college.
The plan underwent some tweaking a few years ago. And now, they have a studio in Tonganoxie.
The mother and daughter from Oskaloosa opened Studio Chanel and Co. last month at 1203 E. U.S. Highway 24-40 after three years in downtown McLouth.
Chanel, who will be a senior at Washburn University when classes start later this month, attended classes and worked at Union Street Dance Station in McLouth. About three years ago, owner Kim Robbins decided to close and approached Chanel about taking over the business.
"We prayed about it and number crunched and we decided to do it," Rynette said.
The leap seems to have paid off.
Enrollment has tripled since the Reilings started Studio Chanel, Rynette said. Roughly 200 young people ranging in age from 3-18 take classes at the studio, They also average about 25 adults for each Zumba class.
Rynette and Chanel decided their business was outgrowing the 2,000-square-foot building in downtown McLouth. Their new location covers 10,000 square feet.
"It's not only bigger space but it has higher ceilings for cheers," Rynette said.
Studio Chanel, which is just west of Kansas Country Store, offers classes in competitive cheer, competitive dance, tap, ballet, jazz and hip-hop, as well as Zumba. Chanel said the studio plans to start offering yoga next month.
Though the Reilings originally planned to open the studio after Chanel finished college, it hasn't hindered her from continuing her education.
Chanel is a radiology major. Her sophomore year she was on the Washburn dance team and is a member of the Alpha Phi sorority. She also is doing clinicals in Lawrence while finishing up her degree and overseeing classes at the studio.
"I'm in my car a lot," Chanel said with a laugh.
She said the purpose of the studio is to offer youth and adults the opportunity to be active in cheer and various dance and exercise classes without having to travel outside the area. Chanel, who participated in cheerleading and dance at Oskaloosa High and was cheer captain, said her mother told her "she had to have a real job to have a fun job."
"This is my fun job," she said about the dance studio. "I was on the verge of being a teacher, something with kids. This is my kid outlet because I love kids."
Rynette, also an OHS graduate, was a cheerleader at Oskaloosa before joining the squads at Allen County Community College and then Emporia State University.
She said the studio serves students throughout Leavenworth and Jefferson counties and also stretches as far south as Baldwin City and east to Piper and Olathe.
Chanel handles operations with the classes, while Rynette specializes in marketing and public relations.
"Chanel and I are a good team together," Rynette said.
She said the studio hopes to offer additional classes in the fall.
Classes are offered Saturdays through Thursdays.