Tonganoxie trio finds success at summer baseball tournament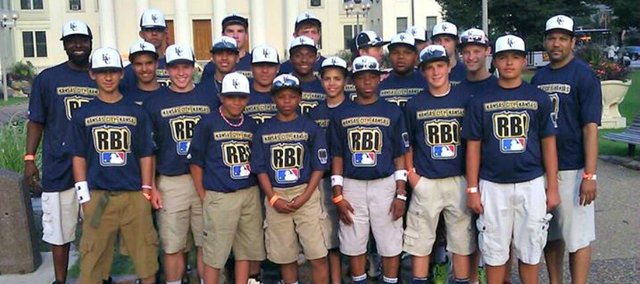 The Tonganoxie High baseball team officially wrapped up 2013 competition in mid-May, but for a couple select players, the season had only just begun.
Shortly after the end of the high school season, Tyler Novotney and Billy Kelley traded in their Chieftain uniforms for those of the Kansas Hurricanes, a 15-and-under summer team based out of Kansas City, Kan. After a successful season, the pair of incoming Chieftain sophomores was invited to play for the STICKS, a team comprised of the KCK RBI league's top 15 players in the 13-15 age division.
After a month of practice, the STICKS — short for "Support Toward Inner-City Kids" — traveled to St. Louis for an the RBI central regional tournament, which featured teams from across the Midwest. The STICKS failed to win a game in seven previous regional trips, but surged to a 3-0-1 record in this year's installment.
Novotney, known as "T-Hustle" by coach Cle Ross, got his squad off to a good start, earning the win on the mound in a 12-2 victory against a team from Minnesota. He came up even bigger in the team's second game, a 6-5 win against a team from Milwaukee. The STICKS trailed, 5-4, but Novotney stole two bases and scored the tying run late in the game, then capped off the comeback with a walk-off RBI single.
"T-Hustle, he came up for the clutch for us," Ross said. "He probably stole seven bags (in the tournament) without getting caught."
The STICKS played a St. Louis team to a 10-10 tie in their third game, then wrapped up tournament play with a 12-4 win against a squad from Nashville, Tenn.
Like Novotney, Kelley did plenty of damage on offense, hitting a combined .454 in tournament play. Defensively, he saw time at pitcher, catcher and first base.
"(Kelley) swung the bat really well," Ross said. "He struggled a little bit on the mound, but he played a really good first base."
Novotney and Kelley were joined by a future Chieftain in incoming freshman Cody Knight. Knight was a reserve and only got one at-bat in tournament play, but Ross expects him to play a more prominent role next season.
The STICKS finished third in the tournament standings behind a pair of Chicago teams that each went 4-0. Both Chicago teams scored at least 15 runs in each of their games — a feat Ross hopes his squad can duplicate in next year's tournament.
All three Tonganoxie players will be eligible to play for the STICKS in 2014. In the meantime, Ross said, they'll have expectations to live up to, both on and off the field.
"With them now being part of the STICKS, we expect them to carry themselves with the utmost respect and continue to put in the hard work to got them where they're at," he said.
Since the end of the tournament, Novotney and Kelley have been invited to try out for the KC Royals fall select team, which will likely include several of their STICKS teammates.