RIDING

HIGH

: Leslie prepares for final college equestrian season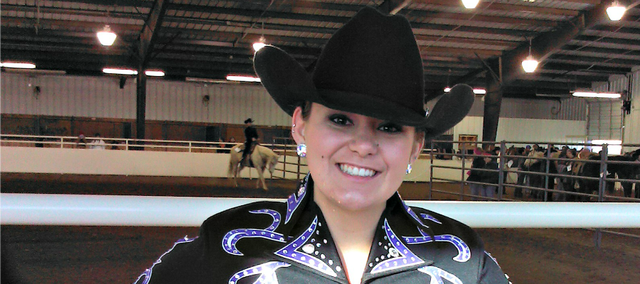 When she was just 12, Makayla Leslie received her first horse as a gift from her parents. That gift soon led to a passion, which would later develop into a career in college athletics.
After playing competitive softball most of her life, college sports were already on Leslie's radar. But, after graduating from Tonganoxie High in 2012, she had a change of heart. Eventually, she found the equestrian program at Redlands Community College in El Reno, Okla. Following a scholarship offer from the Cougars, she traded in her cleats for riding boots, and the rest is history.
"I had grown up doing 4-H and one of the projects I did was horses," said Leslie, an animal science major at RCC. "I still wanted to be involved and I found out Redlands has an equestrian team, so I tried out and it all fell into place.
"I had already looked at Redlands and they offered a lot of what I was interested in. When they offered me a scholarship, it kind of sealed the deal for me."
Despite her many years of experience with horses, Leslie's first collegiate season wasn't without its growing pains. She had to adapt to a new style of riding — one strictly scored and critiqued by judges.
As it turned out, though, Leslie's riding improved and she developed into an asset to the team. By the end of the season, she was pulling in top-three finishes at competitions.
"We ride many different horses that have different cues and training, so (Leslie) then had to learn to manipulate the horses to do what she needed them to do," coach Meriruth Cohenour said. "Makayla is very dedicated to improvement, so it didn't take her long to see results in both of these areas."
Home-field advantage comes into play throughout the season, but unlike in other sports, riders must adapt to foreign equipment, as well as unfamiliar venues. Riders use the horses owned by the host team during road competitions, so they often compete on horses they're riding for the first time.
"The horses we keep at the school represent a wide range of skill levels and personalities, so this helps the students learn to adjust themselves to the horse," Cohenour said "We also try to prepare for any situation that could go wrong so the student learns how to deal with it before it happens."
Last season, the Cougars competed in several events in Texas, as well as one home event. This year's schedule, which starts in late September, will feature a similar lineup. Official practices won't start until classes have begun, but Leslie said several riders start working with horses late in the summer.
Riders are required to practice at least four hours a week during the season, but Leslie said it's not uncommon to put it some time every day. Riders on scholarship must also work four hours a month at the team's farm.
When her final season gets under way, Leslie hopes to pick up where she left off last year and continue to improve throughout the year.
"I just think my goal is to get a first-place finish," she said. "I want to completely develop my talent and riding and continue to grow knowledge-wise within the program."