Kansas: Panel to review 'Hard 50' plan ahead of special session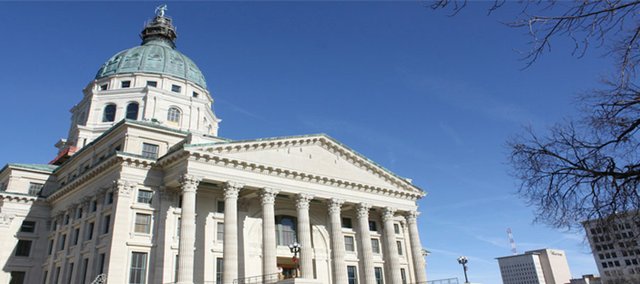 Topeka — A special legislative committee formed in Kansas to consider proposals for fixing the state's "Hard 50" criminal sentencing law will meet the week before lawmakers convene a special session to draft its recommendations, the panel's chairman said Wednesday.
Chairman Rep. Lance Kinzer said the committee's eight House members and six senators will convene Aug. 26 to review proposed legislation on the "Hard 50" law from Attorney General Derek Schmidt. The statute allows judges to sentence convicted murderers to life in prison with no chance of parole for 50 years, but a U.S. Supreme Court decision in June raised questions about its constitutionality.
Kinzer, an Olathe Republican, said he plans to have a hearing on the GOP attorney general's legislation but will consider amendments from committee members, seeking to ensure that the "Hard 50" sentence still can apply in pending first-degree murder cases. Kinzer said he hopes the panel will finish in a single day.
Republican Gov. Sam Brownback called the GOP-dominated Legislature's special session for Sept. 3, issuing a proclamation calling on legislators to approve a "Hard 50" fix within three days. Schmidt had urged the governor to summon lawmakers back to Topeka, but the move had bipartisan support from legislators and prosecutors and the strong backing of law enforcement groups.
"My game plan is to take the attorney general's proposal as a starting point," Kinzer said. "I'm going to try to have that as close as possible to perfect as far as the committee is concerned."
The U.S. Supreme Court ruled in a Virginia case that juries, not judges, must determine whether the facts in a criminal case warrant a mandatory minimum sentence. In Kansas, judges have considered whether aggravating factors in cases of premeditated, first-degree murder — whether a defendant shot into a crowd or tortured a victim, for example — warrant the "Hard 50" rather than life in prison with parole eligibility in 25 years.
Schmidt has said his office is working with prosecutors on a proposal, and Kinzer said he hopes the attorney general's measure will be public ahead of the committee's meeting.
"We should be able to pretty quickly craft a fix," said Sen. David Haley, a Kansas City Democrat, and a member of the joint committee.
The special session is expected to cost taxpayers about $40,000 a day, and some defense attorneys have argued that lawmakers can wait until their next regular session convenes in January to rewrite the "Hard 50" law. They're also skeptical that the state will be able to apply a fix to existing cases.
Schmidt has identified about two dozen murder cases that could be affected by the U.S. Supreme Court ruling, but defense attorneys have noted that even if the convicted offenders don't receive the "Hard 50," they'll still spend years behind bars — with no immediate danger of their release.
Brownback had a Statehouse ceremony Tuesday to sign the proclamation formally calling the special session, flanked by prosecutors, legislators, other state officials and uniformed law enforcement officers in a show of solidarity.
Senate Minority Leader Anthony Hensley, a Topeka Democrat, has accused Brownback of scheduling the special session to limit scrutiny of his next appointment to the Kansas Court of Appeals. Brownback has until Aug. 29 to nominate the new judge, and with lawmakers in session, the Senate will be legally obligated to consider the appointment.
After Tuesday's proclamation signing, Hensley issued a statement labeling the ceremony "an unprecedented diversion tactic" for shielding a potentially controversial judicial appointee.