Local ranch hopes to help those with special needs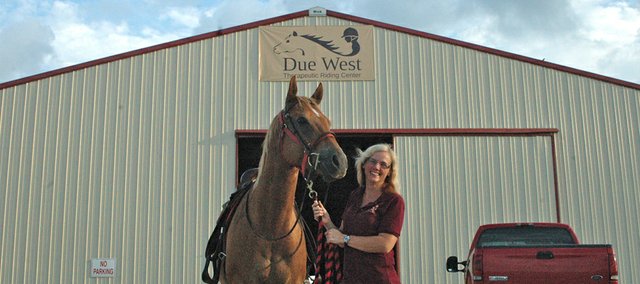 Just before Caroline Miller mounts the horse, she falls silent and serious. It's out of character for this soon-to-be sophomore at Mill Valley High School in Shawnee. Usually smiley and sweet, Caroline takes on a whole new demeanor before her lesson at Due West Therapeutic Riding Center.
As she rides, Miller follows directions from Mary Sharp, lead instructor at Due West. Miller does her best to follow each command and request, and occasionally surpasses Sharp's expectations.
But it's after the lesson that Miller, who has autism spectrum disorder and therefore doesn't speak too frequently, is most notably different.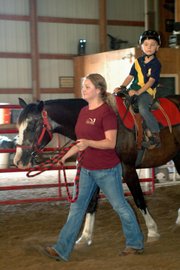 "When we leave (Due West) she sort of talks nonstop and that's really great," said Miller's mother Rachel, who volunteers at Due West and observes her daughter during lessons.
But talking is not the only thing that Caroline does after a lesson.
"She made her first phone call after she got off of a horse," Rachel said. "She called her uncle and told him all about it, which was a big deal."
It is small but significant breakthroughs like these that happen weekly at Due West and that's why Sharp — who also is the executive director and a founder of the ranch — says that she began the program after 20 years of working with special-needs riders at Heartland Therapeutic Riding Center.
"I've wanted to own my own therapeutic riding center for years," said Sharp, "but for one reason or another, I never could."
That changed a little over a year ago, when the owner of Due West Ranch, Bill Basler, let Sharp take the reins in creating a therapeutic riding center at the ranch, located at 12001 Donahoo Road in western Wyandotte County.
"We were just sitting there one day and I said, 'You know, this would make a great therapeutic riding center,' and Bill said 'Okay. Let's do it,'" said Sharp.
Their goal was to serve those with physical, mental, and emotional disorders in a non-clinical setting while also keeping them in a relaxing and therapeutic background.
Before Due West could officially open its doors, Sharp and Basler visited about a dozen therapeutic riding centers in the Midwest, all of which had issues that the team wanted to avoid, like yearlong waiting lists and time-consuming commutes for riders. They hoped to serve families in Wyandotte County, as well as Johnson, Leavenworth and Douglas counties.
"We wanted to provide this service to the people of Wyandotte County and take some of the pressure off of riding centers nearby," said Sharp.
That's what attracted Bonner Springs resident Christine Vancleave and her son, Bruce, who has been taking lessons at Due West for the past few weeks.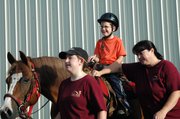 "We are so excited that (Due West)is here," Vancleave said, adding that her previous drives for Bruce's lessons were all the way to Kearney, Mo.
Just one year after officially opening its doors, Due West has corralled 15 horses, just over a dozen clients, and about 30 volunteers, but it's the success stories that Due West has helped to write, Sharp says, that make the program what it is.
"When nothing has changed in the life of a rider—not their home life, their medication, when nothing has changed—and the rider changes for the better after just one lesson; that's amazing," Sharp said.
But Sharp acknowledges that she can't take the credit for any rider's success story.
"I'm not working any miracles; I'm just getting them on a horse," Sharp said. "That in itself is the miracle."
Expansion in the works
Sharp has big plans to expand and improve her Due West Therapeutic Riding Center.
"We've got plans for a ramp, a lounge, concrete and pavement work, and a lift for more severely disabled riders," Sharp said.
Those improvements would be an addition to the five barns, two ponds, large indoor arena, outdoor arena, extensive trails and 80 acres of picturesque farmland.
"We consider the staff, property, clientele and the horses we already have as a blessing, but we want to be able to serve more," Sharp said.
That "more," Sharp hopes, will also soon include equine facilitated psychotherapy for battered wives, abused children, dysfunctional families and those suffering or recovering from substance abuse.
Sharp even has plans for a "Horses for Heroes" program that could help soldiers who were wounded during battle or veterans with Post-Traumatic Stress Disorder.
"We feel very strongly about this program because of our proximity to Fort Leavenworth and the VA hospital," Sharp said. "And of course we want to give back, but it's a little bit harder of a program to get going. It's of a very sensitive nature, and we don't want to make any mistakes."
With all of these plans, says Sharp, Due West only needs two things to make it all happen.
"We have an amazing group of people and we have a team of horses that is second to none," said Sharp, "All we need is the time and the funding."
But Sharp's got a plan for that, too because she has organized multiple a "Not Summer Horse Show Series" taking place at 9 a.m. on Sept. 15, Oct. 20 and Nov. 17, as well as a few dates next year.
Due West will also host a golf tournament Oct. 19 at Dub's Dread Golf Course, with all proceeds going to the therapeutic riding center.
But Sharp says she will run Due West out of her own pocket "if she must."
"This place is heaven," Sharp said. "We just need to get the word out."
For more information about Due West Therapeutic Riding Center, or to like them on Facebook, visit duewesttrc.com or contact Mary Sharp at 912.244.2771. To volunteer at Due West, contact Volunteer Coordinator Julie Morrison at 913.7079468.