Precipitation could be boon for local soybean crops in Leavenworth County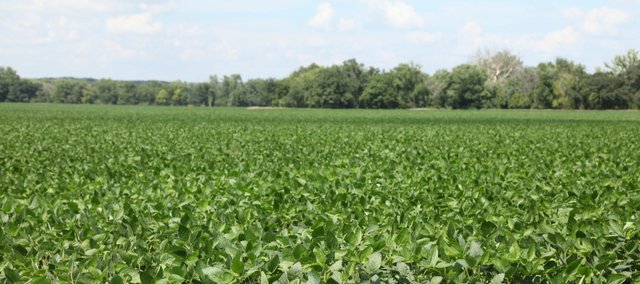 Recent rains could benefit local farmers when the fall harvest comes, especially with the soybean crop.
Steve McNorton, agriculture agent for Leavenworth County K-State Research and Extension, said the rains in late July that have spilled over into August have been welcome.
"Things are looking very positive, particularly the benefit this rain will give to the soybean crop," McNorton said. "The soybeans are in line to benefit most from what we've had."
He said soybean crops could have an increased yield of 20 bushels per acre because of the precipitation. That would be on top of the average of 34 bushels per acre in Leavenworth County, McNorton said.
A bushel of soybeans weighs about 60 pounds.
Most soybeans are planted in May or June in this area, while corn generally is planted in April, McNorton said.
The rain likely won't have as much of an effect on corn.
"As corn matures, an early thing it does is set the number of kernels that are going to represented on an ear of corn," he said.
McNorton stressed that there always are exceptions, and with the late spring, some corn might have been planted later. And though the recent rains likely didn't affect kernel production, they could help increase the size of the kernels.
The extension agent didn't foresee an increase in corn yields in the county. The county average for corn is 105 bushels per acre.
A bushel of corn weighs 56 pounds.
The precipitation hasn't just benefited farmers with their crop production.
McNorton said the rains have helped replenish ponds that the drought has depleted. And, pastures should look better thanks to the rain.
During the last week of July, Leavenworth County received about 3.5 inches of rain, according to the state climatologist's office at Kansas State University.
Rainfall in some areas of Kansas has led to flooding, but McNorton said he thinks any additional rain will be favorable.
"Some areas of the state would like it to stop for a while," McNorton said. "I don't think we're at that point here."