Former
TMS

coach Tollefson takes over Chieftain cross country program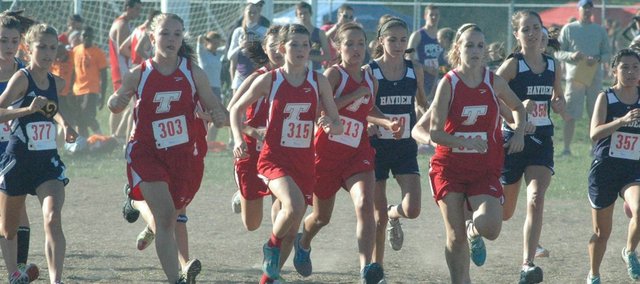 For the first time in nearly four decades, the Tonganoxie High cross country team is under the direction of a new coach, but that doesn't mean Chieftain runners have to learn an unfamiliar face.
John Tollefson, who coached the middle school program since its inception in 2008, has taken the reins from former coach Phil Williams, who retired in December after 38 years at the helm.
"When (Williams) started hinting around that he was going to retire, I certainly considered it, then the district talked to me about it as well," Tollefson said of the coaching change.
Tollefson will enter his first THS season with a sense of familiarity throughout the roster. He coached most of the current runners when they were in middle school. He helped found the program when this year's senior class was in seventh grade.
Additionally, Tollefson is currently a science teacher at the high school, which gives him a chance to interact with student-athletes away from the course.
"John is an outstanding educator. He connects very well with students," THS athletics director Brandon Parker said. "He will be a great leader for the cross country program."
With six returning letterwinners on both the boys and girls teams, Tollefson is hopeful the Chieftains can make some noise in the coming months. Among those returning is the team's only 2012 state qualifier, incoming sophomore Sophia Wetta.
"The high school team was pretty young last year, so I think we have a chance to finish a little higher this year, I hope," Tollefson said. "We've got a few strong freshmen coming up as well, so we're excited to run this year. We should be able to put on a solid face competition-wise."
Like in previous years, runners met twice a week in July for a summer running program. They'll officially begin the season with a midnight practice on Aug. 19, then open their schedule on Sept. 5 at home against Lansing.
Throughout his first season, Tollefson said he'll remain in contact with Williams, who is responsible for nearly every bit of cross country success in school history.
"Somebody who has been around as long as Will has, he's established the face of this program," he said. "He's probably forgotten more about cross country than I'll ever know."