OFF

AND

RUNNING

: Chieftain football opens practice at 12:01 a.m.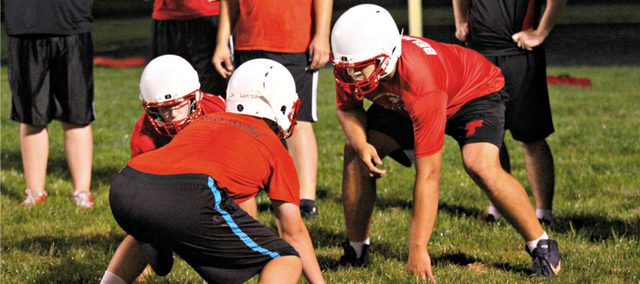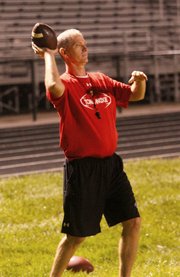 2013 varsity schedule
Sept. 6 — vs. Lansing
Sept. 13 — at Atchison
Sept. 20 — vs. Piper
Sept. 27 — at Mill Valley
Oct. 4 — at Bishop Ward
Oct. 11 — vs. Turner (homecoming)
Oct. 18 — vs. Perry-Lecompton
Oct. 25 — at Jeff West
Oct. 31 — vs. Basehor-Linwood
2013 JV schedule
Sept. 9 — at Lansing
Sept. 16 — vs. Atchison
Sept. 23 — at Piper
Sept. 30 — vs. Mill Valley
Oct. 14 — at Turner
Oct. 28 — vs. Jeff West
2013 freshman schedule
Sept. 5 — at Basehor-Linwood
Sept. 9 — at Lansing
Sept. 16 — vs. Atchison
Sept. 23 — at Piper
Sept. 30 — vs. Mill Valley
Oct. 7 — vs. Bishop Ward
Oct. 14 — at Turner
Oct. 21 — at Perry-Lecompton
Oct. 28 — vs. Jeff West
For the second time in as many years, the Tonganoxie High football team made sure it started its season at the first possible minutes.
The Chieftains, now in their second year under head coach Al Troyer, kicked off the 2013 campaign at 12:01 a.m. Monday with their first practice at Beatty Field. The team met for 90 minutes of position drills, officially opening a year in which it returns 17 of its 22 starters on offense and defense.
"It was a great atmosphere," Troyer said. "The kids are excited about coming out here at midnight and starting as soon as we can. They were focused in, so they did a good job."
THS enters the fall with high expectations after turning a corner in Troyer's inaugural season. Powered by back-to-back district wins in October, the team went 4-5 in the regular season, won a district title and made the playoffs for the first time in seven years.
With so many starters back in 2013 — many of them part of a 22-man senior class — the Chieftains have their sights set on even more wins this fall.
"We have some expectations this year," said junior receiver/defensive back Jared Sommers. "Last year, with a new coach and a new system, we didn't know what we were doing. This year, we know what we're doing, so we've just got to polish it and keep going."
Offense
Offensively, THS returns eight starters from a unit that showed improvement late in the 2012 season. Seniors Tyler Ford, Cole Holloway and Shane Levy led the charge last year and figure to put up even bigger numbers in their final season. In his first season as starting quarterback, Ford threw for 1,071 yards and five touchdowns. He also tacked on 139 yards and two scores on the ground. Holloway, who missed most of his sophomore season with an injury, amassed 1,271 yards and 10 touchdowns at running back last year. Levy posed a threat on the ground as well as through the air, racking up 368 rushing yards, 606 rushing yards and five total touchdowns.
Fellow seniors Ben Johnson, Eric Tate and Wyatt Weeks and Sommers also played a role in the receiving game last year and could get even more looks in 2013. The offensive line also returns several key contributors, including seniors Zeke Kissinger, Cody Snyder, James Grizzle, Chase Sample and Shawn Ridihalgh, as well as junior Justyn Leslie.
The offense must replace a pair of linemen in Gus Dent and Thomas Miller, as well as tight end Brett Shelton and fullback Cody Saladin.
Defense
The Chieftains are arguably even more experienced on defense, where they return starters at all but two spots. Grizzle, a defensive end, will anchor the front four after joining the team midway through his junior year. He recorded 40 tackles and three sacks in just seven games last season. Kissinger, Snyder and fellow senior Clayton Neas also saw significant time up front. Additionally, junior Carl Hecht will vie for time on the line.
Levy, the team's sack leader with seven, lined up at end last season, but will make the switch to linebacker this year. He'll join Weeks, a returning starter who recorded 17 total tackles, including three for loss.
The secondary, headlined by the team's leading tackler in Sommers, returns a plethora of experience. Several defensive backs saw significant time last season, including Johnson, Tate and Holloway. Senior Maleak Gibson is also expected to play a bigger role in the backfield.
The defensive line has the biggest shoes to fill this season, as Dent, Miller and Saladin all saw time in the trenches last season. Additionally, the secondary must fill the void left by Tyler Zinser, who finished fourth on the team in tackles.
Special teams
The special teams unit likely won't see any big personnel changes. Tate returns as the team's starting kicker, Hecht is back at the starting punter and Sommers is back as the team's leading returner. Tate was 14-of-18 on extra points and 4-of-6 on field goal attempts last season, while Hecht averaged 28.4 yards on 53 punts. Sommers averaged 6.9 yards on 19 kickoff returns and 11.33 yards on six punt returns.
First game
THS will open the season Sept. 6 at home against Lansing. The team shocked the Lions in last year's opener, handing them a 22-20 loss on the road, but after last year's successful run, it's unlikely the Chieftains will catch anyone off guard in 2013 — particularly in the Kaw Valley League, which had four playoff teams last fall.
"I think we've got to embrace that because knowing that nobody's expecting you to win, that means you weren't doing something right the year before," Holloway said. "We've got to keep doing what we need to do and putting in the hard work throughout the year because we're not going to sneak up on anybody this year."