Tonganoxie crew hikes Philmont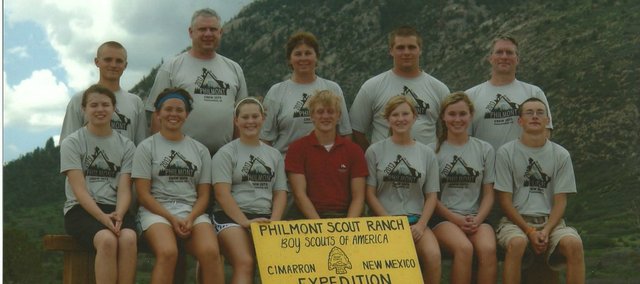 A Tonganoxie group has returned from a successful trip to the Philmont Scout Ranch.
Eleven members of Venturing Crew 2075 of Tonganoxie recently completed a 10-day, 67-mile trek through the Philmont Scout Ranch in the Sangre de Cristo Mountains near Cimarron, N.M. Philmont covers 214 square miles of wilderness with trails that climb from 6,500 feet to 12,441 feet. During their trek, the scouts hiked the entire elevation range.
The group of scouts and their advisers carried everything they needed to survive during the trek on their backs while hiking from campsite to campsite. Packs weighed from 40-60 pounds. They participated in backcountry programs such as mountain biking, black powder rifle shooting, wilderness search and rescue, spar pole climbing, tomahawk throwing and cowboy action shooting. The trek also included a three-hour conservation project at which the scouts learned and participated in the upkeep of Philmont's ecosystem. Along the trek, scouts endured challenges including backpacking in bear and mountain lion territory, steep climbs and often inclement weather.
The crew made what amounts to a scouting pilgrimage with their trip to Philmont. Philmont Scout Ranch is the Boy Scouts of America's premier high adventure camp.
Henre Farms sponsored the trip. Kennedy Morey, Aly Bartholmew, Emma DeMaranville, Shannon Olson, Jo Kissinger, Dylan Olson, Greg Gast, Zeke Kissinger and advisers Burt Morey, Ursula Kissinger and Martin Olson made the trip.