Retired Tonganoxie teacher continues work at state level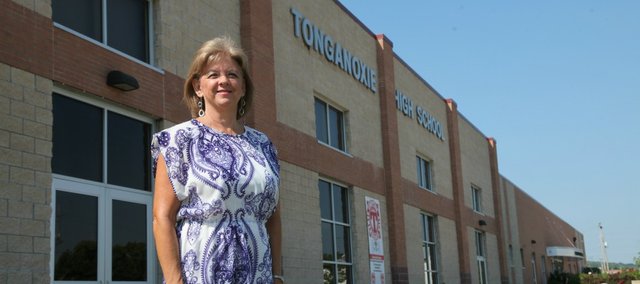 Pam Lamb taught family and consumer sciences for about 35 years at Tonganoxie High School, where students learned various skills, including how to follow directions for recipes — some perhaps too well.
Lamb, who completed her career at THS in 2012, recalled teaching a bachelor living class during her first couple years in Tonganoxie.
"We were going to bake something," Lamb said. "I was looking around the room and I saw one boy and he was greasing the entire pan. I said 'why are you greasing the outside of the pan?'"
He told her the directions called for greasing the pan.
"I said 'you're exactly right,'" Lamb said with a laugh.
Times have changed since Lamb started teaching home economics at THS in 1977. Home economics later became family and consumer sciences and the national organization Future Homemakers of America became Family, Career and Community Leaders of America.
Though Lamb finished her teaching career in 2012, she continues to be involved in FCCLA. She just finished her first year as state FCCLA adviser in the Kansas State Department of Education. As adviser, Lamb oversees roughly 5,000 FCCLA members in some 230 chapters.
While at THS, Lamb's FCCLA chapter had numerous state officers. The chapter also experienced success at the state and national level in Students Taking Action with Recognition events. STAR events range from chapter service projects and culinary arts to parliamentary procedure and sports nutrition.
"The kids were just so into it that I kind of wanted to see what I could do at a different level," Lamb said about taking the state job.
Lamb has an office in Topeka, but she travels the state frequently, visiting district officers and presenting workshops. She also organizes the state leadership conference and attends some national conferences.
Gayla Randel has known Lamb for about 20 years. The former FCCLA adviser at Frankfort High School, Randel now works with Lamb at the KSDE as a program consultant for family consumer sciences.
She said Lamb is a natural fit for state adviser because of her years as a high school adviser.
"I think that's one of the keys when you're at an administrative level, as she is," Randel said. "In the back of your mind you wonder, 'how would this impact me if I were in the classroom?' And she listens to what people say."
Lamb grew up in Clifton in north-central Kansas. After graduating from Clifton High School, now Clifton-Clyde, she earned her teaching degree from Emporia State University in 1977 and later earned a master's degree in adult education from Kansas State University.
Looking back, Lamb said she thought Tonganoxie might be a great starting point when she first began teaching. She eventually decided there was no need to teach elsewhere.
"I just really liked the school system and the people I worked with and the community," she said. "I always thought our school system was a good one."
Staying in Tonganoxie for 35 years allowed her to see students grow up before her eyes. She first interacted with some of those students through early childhood development programs. Her high school students partnered with youths ages 3-5 for the preschool classes. Lamb said it was interesting to first see the students in preschool and see how they progressed later in high school.
She recalled one of her high school students becoming attached to one of the preschool boys several years ago. At the end of the preschool session, the high school boy was sporting a mohawk.
"Guess who came with a mohawk the last week or so of preschool," Lamb said about the younger counterpart.
Lamb influenced several students through the years. She served stints as cheerleading sponsor early on and dance team sponsor at the end of her teaching career.
Some of her students have gone on to become family and career science teachers as well. Tonganoxie school board member Kay Smith is a FACS teacher at Leavenworth High School, while Tara (Kemp) George replaced Lamb at the high school. Megan (Bretthauer) Carlton starts this year as the new Tonganoxie Middle School FACS teacher, taking over for Vicki Hughes, who retired in May. Kassie DeHoff teaches at Deerfield in southwest Kansas.
"FCCLA became a passion for me and I really felt like it was very beneficial to the district," Lamb said. "And I felt very strongly about the organization … It's not that I didn't like teaching, but maybe that I was ready for a change."