New-look
THS

soccer team hopes to strike gold again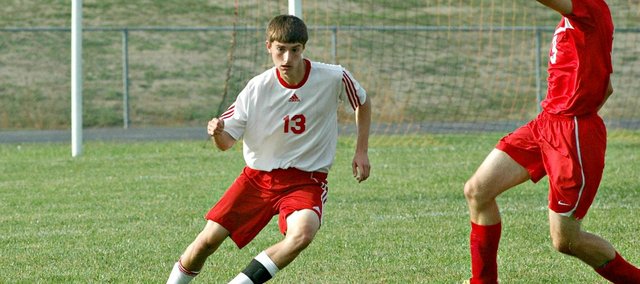 2013 soccer schedule
Aug. 30 — vs. Baldwin
Sept. 3 — vs. Bonner Springs
Sept. 5 — vs. Basehor-Linwood
Sept. 10 — at Atchison
Sept. 12 — at Perry-Lecompton
Sept. 17 — at Turner
Sept. 19 — vs. Piper
Sept. 20 — at Maranatha (KCCC)*
Sept. 23 — at Mill Valley
Sept. 28 — at Eudora
Oct. 1 — vs. Perry-Lecompton
Oct. 7 — at Lansing
Oct. 10 — at Bishop Ward
Oct. 15 — at Maur Hill
Oct. 17 — vs. Bishop Ward
Oct. 24 — vs. Immaculata
*Varsity only
To say 2012 was a historic year for the Tonganoxie High boys soccer team would be an understatement. The Chieftains set program records for wins and games played. They won a league title for the first time in 15 years. They became the first-ever THS team to play in a state championship game.
But, when they return to the field later this month, all but a few pieces of last year's record-breaking squad will be gone.
THS must replace nine starters from its state runner-up team, leaving coach Brian Kroll with a formidable workload as the new season fast approaches. However, with a few veterans back and a lofty freshman class now in place, 2013 could prove to be more than a typical rebuilding year.
Senior and Evan Stilgenbauer will look to lead the Chieftains in his final high school season. The second-year captain returns after earning an All-State honorable mention in 2012, but more importantly, he returns as one of the few remaining cogs from a team that reached unprecedented levels of success. He'll be charged with mentoring a freshman class as large as 11 players, some of which could vie for starting spots right away.
"It feels great. I'm actually kind of nervous, to tell you the truth," Stilgenbauer said. "This a young team, but they know the game well, so I'm feeling confident in them. It's the best class of soccer I've seen in a long time. Their soccer IQ is off the charts."
Stilgenbauer primarily played defender last season. He led the team with 155 steals and also scored a pair of goals on 19 shot attempts.
Junior and fellow All-State honorable mention Asher Huseman returns after a more-than-productive sophomore campaign, in which he racked up 19 goals and seven assists — both tops among returning players. Huseman will likely need to play an even bigger role this year after the loss of All-State first-teamer and four-time leading scorer Matt Saathoff (31 goals, 17 assists).
Sophomore Tyler Novotney is back as the team's only other returning starter. He became a starter midway through last season and never relinquished his spot. He's finished the year second among returning players with 43 steals while adding two goals and an assist.
Other returners who saw significant time last year include seniors Dylan Olson and Ben Edmonds and junior Kyle Caldwell. Each played in at least 13 games last season.
Stilgenbauer, whom Kroll labeled as the team's coach on the field, emphasized the importance of veteran players creating a bond with their new teammates, particularly with so much turnover from last year's roster.
"We've got to communicate with our team," he said. "We have to be the mind on the field, let them know what exactly to do and when to do it. Eventually, they're going to catch on to what we do and we'll catch on to what they do."
With so many new faces and several varsity spots up for grabs after last year, rookies and veterans alike have had several opportunities in practice to make their respective cases for starting jobs. According to Kroll, the early-season competitions is hardly a bad thing for his new-look squad.
"It's good because it gives those (new) kids an opportunity, and at the same time, it lets all the other kids who aren't freshmen see how good these kids are," he said. "They know they can't afford to take time off. It will help create that 'want to get going' mentality among all of them."
Fans can get a preview of the 2013 Chieftains when they host a scrimmage at 7 p.m. Tuesday at Chieftain Park. The team will open its season with three straight home games, starting Aug. 30 with a visit from Baldwin. All home games will be played this season at the park, starting with junior varsity action at 4:30 p.m.