Chieftain cross country teams loaded with veterans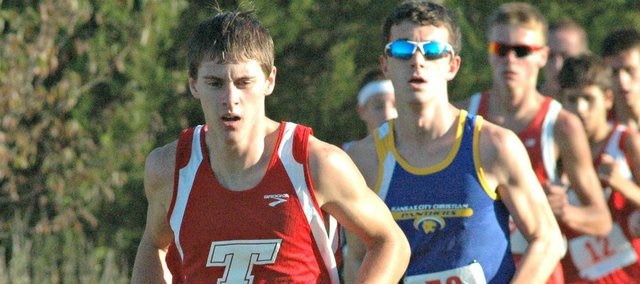 2013 cross country schedule
Sept. 5 — vs. Lansing
Sept. 12 — at ACCHS
Sept. 19 — at McLouth
Sept. 24 — Tonganoxie Invitational
Oct. 3 — at Maranatha
Oct. 10 — at Pleasant Ridge
Oct. 17 — at Lansing
Oct. 26 — Regionals (TBA)
The Tonganoxie High cross country teams are under new leadership for the first time since 1975, but as far as personnel goes, few other changes are noticeable.
Both Chieftain squads return nearly all of their varsity runners from a year ago, leading to plenty of excitement as the start of the 2013 season fast approaches. Runners opened the year last week with their annual 12:01 a.m. practice, kicking off nearly three weeks of preparation.
"It's an exciting thing for them for them to do, and it's exciting for me, too," coach John Tollefson said. "It's just a good, traditional way to start the season."
Andrew Behm is the only senior on the boys team with varsity experience, but he's hardly the only veteran. Junior Garrett French — the lone remaining runner from the team's last state appearance — will also look to lead this year's squad after recording the team's top time at several meets a year ago. He ended the year with an All-Kaw Valley League second-team selection.
Fellow junior Brad Andrews, sophomores Ethan Phillips, Dylan Staatz and Jake Tollefson also ran in multiple varsity meets in 2012. In addition to its long list of returners, there are a handful of new faces who could make an immediate impact in their first high school season.
"We have some freshmen this year who I feel like have huge potential," Behm said. "I feel like they'll help out the team tremendously, then with me and Garrett up at the front, I think we'll have a really strong guys team this year."
In the weeks preceding the season, runners have battled for varsity openings left by 2013 seniors Jeff Neal and Brett Morey. Neal joined French on the All-KVL second team.
The boys finished fifth at last year's league meet and fifth at regionals.
The Chieftain girls are equally, if not more, seasoned than their male counterparts, as they return six runners with varsity experience, including three all-league selections and a state qualifier.
Sophomore Sophia Wetta was the only Chieftain to make it to state last year and was also the team's only All-KVL first-teamer. Sophomores Tressa Walker and Emily Williams each earned second-team honors. The all-league trio is joined by seniors Taylar Morgan, Alissa Donnelly and Shelby Fatherley as runners with varsity experience.
"I think we need to push each other and we have to stay focused," Donnelly said. "Even though we all like to have fun, we have to know what we're working for and what we want. In the end, that's hopefully to make it to state as a team."
The girls took third at league last year and just missed qualifying for state with a fourth-place finish at regionals. But, with nearly all of last year's team back — Amanda Shepley was the only varsity runner lost to graduation — there is plenty of reason to believe the team could enjoy even more success in 2013.
"I know the younger girls will compete against each other," Morgan said. "They're going to try and get after the front of the pack, so it's really important to start off the way we ended last year and keep up that momentum."
Runners met twice a week throughout July for a summer running program, but last week's early-morning practice marked the first official action under John Tollefson. Tollefson, who helped found the middle school program in 2008, took over the high school program following the retirement of 38-year coach Phil Williams.
"I was kind of feeling not too good about it when Will left, but Mr. T, we were actually his first team in middle school," said senior Annie Holton, whose sister, 2006 grad Megan Holton, helped start the 12:01 a.m. tradition. "I like him a lot and we're off to a good start."
The team will open its season Sept. 5 at home against Lansing.
More like this story