Athletes to watch: Part 3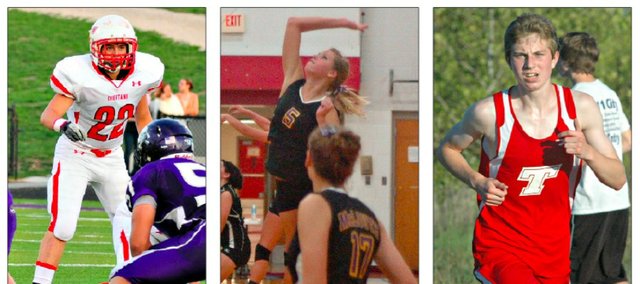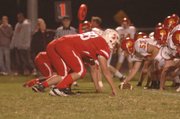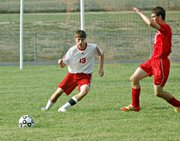 Editor's note: This the the third in a three-part series highlighting some of the top fall athletes at Tonganoxie and McLouth high schools. Each of these athletes played pivotal roles on their respective teams last season and are seemingly poised for even more success in 2013. Athletes are listed in no particular order. Part 1 is available here and part 2 here.
Wyatt Weeks, Sr., THS football
In his junior campaign, Weeks made an impact on both sides of the ball as a linebacker and wide receiver.
Offensively, he caught four passes for 83 yards — all of which came in the team's last four games. His longest reception went for 32 yards in a bi-district playoff win against Atchison. He could make an earlier impact this year in an offense much more familiar with coach Al Troyer's system.
Weeks recorded 17 total tackles on defense, including three for negative yardage. His top defensive performance came in a regular-season game against Atchison, in which he had nine stops, including one for loss. He'll start at linebacker this year and will look for that kind of production throughout the season.
Summer Cerny, Jr., MHS volleyball
Cerny enters her third season on the McLouth varsity squad. Labeled an "all-around player" by coach Kay Koch, Cerny brings arguably the most volleyball knowledge to the Bulldogs after playing several years on a club team in the offseason.
Cerny's experience showed up on the stat sheet last season, as she recorded 152 kills and maintained a 90 percent success rate on serves. She was rewarded for her efforts with a All-Delaware Valley League honorable mention.
MHS won just three matches a year ago, but Cerny is one of several returning players with varsity experience. That added playing time could very well translate into additional success in 2013.
Garrett French, Jr., THS cross country
French returns as the top runner on a team loaded with varsity experience. The lone remaining piece of the Chieftains' 2011 state team, French led the team in all but one meet last season.
He opened the season with an individual title at a triangular with Lansing and Kansas City Christian, then went on to earn four more top-10 finishes. He recorded a season-best time of 17:15 at the Tonganoxie Invitational. His 13th-place finish at the Kaw Valley League meet earned him an all-league second-team selection.
French, one of the team's most veteran varsity runners, is seemingly poised for even more success in his third high school season. If the Chieftains are to make a push for state, he'll likely play a pivotal role in the team standings.
James Grizzle, Sr., THS football
Grizzle was a late arrival last season, but when he finally got on the field for the Chieftains, he made his presence felt immediately.
Despite missing the first four games of the 2012 season, Grizzle finished sixth on the team with 40 total tackles and led the way with five tackles for loss. He was at his best in a district win against Jeff West, recording three sacks, including a game-clinching stop on fourth down in the final minute.
Grizzle also saw time on offensive line last season, helping pave the way for the school's first 1,000-yard rusher in three years.
With a full season to work with as a senior, Grizzle likely will make an even bigger impact this fall. He was instrumental to the team's late push for a district title and will be looked to for more defensive leadership in his final season.
Evan Stilgenbauer, Sr., THS soccer
Stilgenbauer is one of very few pieces remaining from last year's state runner-up squad. But, despite breaking in a new supporting cast, the two-year captain could be poised for another big year in 2013.
Primarily a defender last season, Stilgenbauer led the team with 155 steals on the way to an All-State honorable mention. He also recorded two goals, including a clutch, game-tying score in the final seconds of regulation at Bonner Springs.
Stilgenbauer also has seen time at wing during his career, so he could play multiple roles on this year's squad. Position aside, he's already emerged as the leader of a team that must replace nine starters.