Visitors flock to Grinter farm for annual viewing of sunflower crop south of Tonganoxie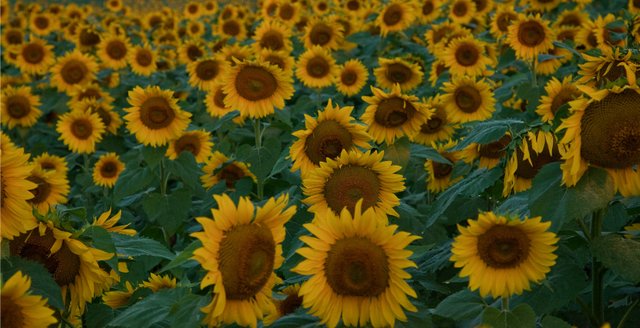 The Grinters lined up a few rows deep into their sunflower field Saturday morning to take their annual family photo. It was the ideal time: Around 8 a.m. the sun was glimmering off the yellow petals, but the air still was cool.
Dozens of other families had the same idea.
"This morning I got up about 6 a.m. and I looked out the window," Ted Grinter said. "I looked out and there were already people out there."
This summer, Grinter planted 47 acres of sunflowers (23,000 seeds per acre) surrounding his home on Stillwell Road just off U.S. Highway 24-40 between Tonganoxie and Lawrence. He and his wife, Kris, open the field for people to take photos each summer.
They also allow sunflower enthusiasts to pick a few at a price of $1 per flower.
Grinter's father, Jim, started the tradition the summer of 1975. Thirty-eight years later, Ted still is planting the black oil sunflowers, cutting them down and selling them for bird feed.
"Dad started doing it when I was a kid," Grinter said. "It's been almost 40 years, and I've been doing that ever since."
Grinter planted the seeds in late June. For a while, it seemed as if it would be a repeat of last summer, when the farmland experienced 17 days of 100-degree weather with no rain, resulting in a meager, short-lived crop.
Kris posted updates about the sunflowers to her blog, and near the end of July, the Grinters still were concerned about stunted flowers because of the lack of rain. But the heavy rainfalls at the beginning of August helped the flowers to pop up, and Grinter said some may even be blooming a bit longer than normal.
"It worked quite well," Grinter said. "It looks pretty good."
People started showing up to take photos on Thursday, when the sunflowers were in bloom and facing east.
Grinter said the flowers should make it to Labor Day before they start to wilt and die.
"Whoever said 'beauty is fleeting' must have had a sunflower field in mind," Kris wrote on her blog as a warning to those wanting to see the flowers at their best.
Cars lined Stillwell Road into late morning Saturday. Professional photographers snapped senior pictures and family photos, people stopped by to take photos on their cell phones, and kids took turns breaking off flowers (avoiding the ones with bees) to take home as souvenirs.
Other peoples' appreciation of the plants is why Grinter enjoys it; he said he would keep a sunflower crop for years to come.
"It's a feel-good plant," he said, simply. "And they're pretty."