City Council hires inspector to handle
TES

building codes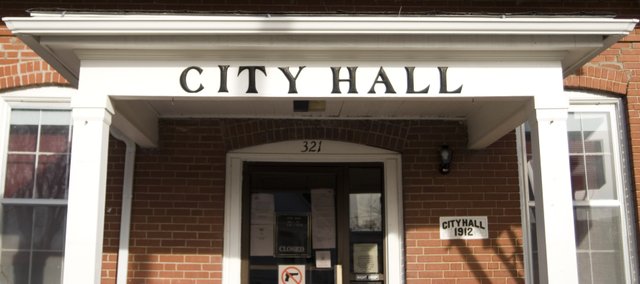 The Tonganoxie City Council has hired a firm to handle code inspections of the new Tonganoxie Elementary School. The council also has opted not to waive permit fees for the school district.
The council voted, 5-0, to hire Design Energy Group for $110,000. Joe Keane, owner of DEG, will review construction plans, regular inspections, city engineering consultations and general regulatory oversight.
City Administrator Nathan McCommon said the school is a large and complex project that requires oversight that goes beyond expertise and availability the city staff currently has.
Keane has worked with the city on various small projects and in reviewing construction plans for the new elementary school. McCommon said also said Keane was a locally recognized expert on school construction. Basehor, Lansing and Bonner Springs also have endorsed him for work on their projects, McCommon said.
McCommon told the council that the school district's architect had inquired about the city waiving the school's building permit fee, which also is about $110,000.
Mayor Jason Ward said he believed in a partnership with the school district and that the school was going to be "a wonderful addition" to the community. But he wasn't sure the city was in a position to waive fees.
Council member Bill Peak agreed.
"I don't see it," Peak said. "Everything you waive is going to cost Tonganoxie.
"To me, it's a wash. That way we're not out anything and the safety part of it still gets done."
Keane said building permit fees generally are waived for nonprofit organizations.
Keane's fees will cover the duration of the construction project, which is to be finished in 2015.
In other business, the council:
• Determined a paint color for the Chieftain Trail walking bridge. The council selected a red oxide color for the Tonganoxie Creek bridge, which will be built near the County Road 5 bridge that runs near VFW Park.
• Discussed plans for the Gallagher property south of Tonganoxie Water Park. The Gallagher family has donated the land to the city with the caveat that the land be utilized as a park. Council members determined that a task force of five community members would be a sufficient number for a committee.
Kay Soetaert will chair the project, McCommon said. An initial community meeting to discuss the land's future took place Tuesday in the Tonganoxie Public Library after The Mirror's deadline.
• Approved, 5-0, payment of $21,301 to BG Consultants for city engineering services for the new Tonganoxie Elementary School, Chieftain Trail extension and U.S. Highway 24-40 streetlight design; $29,620 to Blue Cross Blue Shield for employee health insurance benefits; $2,500 to Evan Dean for easement acquisition; $24,102 to First State Bank and Trust for loan payment on a fire pumper truck; $4,125 to PWWWSD No. 6 for reissuance of October debt and service charges; $5,000 to Somers Holdings, LLC, for easement acquisition; $100,000 to Leavenworth County for annual Leavenworth County Road 1 contribution.