Feaste fit for kings
Annual event Friday, Saturday at Tonganoxie Middle School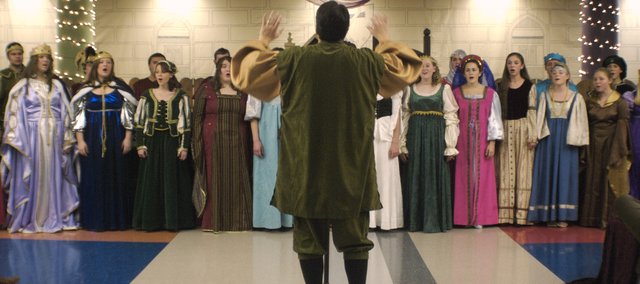 The calendar has turned to December, which means it's almost time for a popular local tradition.
Things are about to get Medieval in Tonganoxie.
The annual Madrigal Feaste will start at 6 p.m. Friday and Saturday at the Tonganoxie Middle School commons area.
Tonganoxie High School and Tonganoxie Middle School students will present the Madrigal Feaste, a dinner theater with entertainment set in the Middle Ages.
Doors open at 6 p.m. each evening, with the processional beginning at 6:30 p.m.
All seats are reserved and no tickets will be sold that night. Tickets are $15 each, though guests are welcome to donate more. All proceeds benefit the Tonganoxie THS and TMS vocal music departments.
The evening will feature the traditional holiday meal of wassail, barley soup, harvest loaves with butter, ham steak, roasted potatoes, green beans and cherry tarts.
This year's play is "Robin the Hood."
The king and queen for Friday's performance will be Jacob Casselman and Madelyn Lewis. Saturday's king and queen are Tyler Wehmeyer and Haley Griffin.
Cast for the play are Lauren Harrell as the jester, Annamarie Bennett as Maid Marian and Nunja 3, Jackson Bartlett as Prince John, Thomas Ford as the sheriff, Ben Clark as Friar Tuck, Hunter York as Merry Man 1, Braden Shryock as Merry Man 2, Joshua Lingo as Merry Man 3, Luke Falk as Robin the Hood, Nathan Tuter as Little John, Halston Field as Nunja 1, Emma Demaranville as Nunja 2, Mat Davis as Cookie and Quin Smith as the sports page/steward.
Servers, ushers and members of the Royal Court are all students in the TMS and THS vocal music departments. After the meal and the revelry, the eighth-grade choir, THS concert choir and Chieftain Singers will perform a concert.
There is seating for more than 200 guests in the TMS commons area each night. But as madrigal feaste director Tom Gifford noted, the event sold out both nights last year, so anyone still interested in attending should order tickets as soon as possible, as he is expecting sellout crowds both nights this year.
For tickets, call at 913-845-2654.