Wildersons' Christmas tree farm plants for the future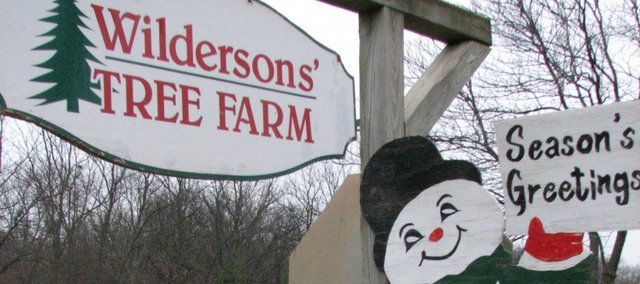 From seedling to a Christmas tree of perfect height, the evergreens at the Wilderson Tree Farm take an average of seven years to mature. And for more than 30 years, the trees grown at the Basehor farm have been raised, chopped down and sold to families.
But this season may be one of the last for a while. Charles Wilderson, 78, owner of the farm, hasn't been planting seedlings for the past several years as he prepared to retire. This holiday season was supposed to be his last.
"It's a lot of work," Wilderson said. "A lot of tree farmers are aging and just can't do it anymore. There's nobody to inherit the farms."
Wilderson is lucky enough to call himself one of the few who may see his farm continue production into the future. His son, David Wilderson, has expressed interest in planting more trees.
It was David's idea to start the tree farm in the first place 37 years ago when he was a teenager. Charles Wilderson said his son planted 1,000 seedling in 1978 on the family property in an effort to help pay for his college education. The tree farm grew to about 18 acres.
Today, Wilderson only has about eight acres producing trees and, because he hasn't planted in several years, there will be a several-year lapse between his last batches of trees and the trees his son recently planted.
To cover, Wilderson will continue to sell firs that he imports from Wisconsin. This year, Wilderson expects to sell 500 trees, mostly from his own farm but also a couple hundred from Wisconsin. Wilderson imports firs from Wisconsin because they are harder to grow in Kansas.
The Wildersons sold 626 trees last year, after averaging in the 500s from 2008 to 2011. They expect sales to be down slightly this year.
Live trees, if watered properly, can live for about a month, Charles Wilderson said. The trees cost $6.50 per foot to $9.50 per foot.
Aside from Wilderson's son David, who lives in Olathe, Wilderson is also creating a new generation of natural tree admirers in Basehor.
For years he has been hiring teens from Basehor-Linwood High School to help during the busy selling season. This is the third year for Brooke Wilson, a senior at BLHS.
Wilson began working at the tree farm after seeing a sign posted at the high school.
"I saw a tree farm, I thought, 'I like Christmas,' and I have a 4-wheeler, let's go." Brooke said recently as she bundled up for a cold day of work.
The advertisement for the position sought someone with a 4x4 who could haul trees, and that's what Wilson has been doing ever since. Customers at the Wilderson Tree Farm pick out which tree they want and Wilson drives out, cuts it down and nets it for them. One of her fondest memories was cutting down a tree for a family with a small boy who wanted to help. Wilderson teaches his workers about safety, so Wilson didn't actually let him help cut down the tree, but let him act like he was with a plastic toy saw.
Wilson, who said her family usually uses an artificial tree, said she has come to appreciate a real tree since working at the tree farm.
"They always make a room smell good," Wilson said.