Chieftain boys falter late vs. Lions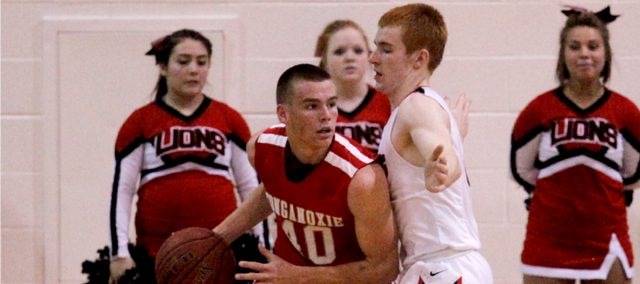 Lansing — For better than three quarters, the Tonganoxie High boys went toe-to-toe with one of the state's premier Class 5A teams in its season opener. Unfortunately, the final minutes weren't kind to the upset-minded Chieftains.
THS trailed Lansing by a single possession early in the fourth quarter, but couldn't find an answer for a late Lansing surge in a 72-56 loss Friday at Earl W. Johnsmeyer Gymnasium.
"We've got to do a better job of taking care of the basketball and executing a little bit better down the stretch," coach Shawn Phillips said. "The game was closer than the score showed, but we didn't execute. That's why it got stretched out."
The Chieftains (0-1, 0-1 Kaw Valley League) entered the fourth quarter trailing by just two, 45-43, and got a chance to take their first lead of the game, but missed opportunities allowed the Lions (1-0, 1-0) to extend their advantage to seven with 6:09 remaining. LHS, last year's 5A state runner-up, continued to pull away down the stretch, capping off a 27-point fourth quarter.
Air Force signee Joe Schneider was a non-factor for the first three quarters, scoring just two points on 1-of-9 shooting, but he reeled off 11 in the final period to spark the Lions' late surge. His 13 points were second to teammate Zach Jackson, who led all scorers with 28.
"Their guard play was great down the stretch," Phillips said. "Jackson and Schneider were both very good in the clutch."
Sophomore Jack Dale led the Chieftains with 14 points and senior Tyler Ford added 10. James Grizzle had a team-high seven rebounds.
As a team, THS won the rebounding battle, 30-26, but Lansing pulled down 13 second-half boards to the Chieftains' 10.
"Our goal is to be plus-10 and we thought we were well on our way in the first half," Phillips said. "In the second half, we didn't do a real good job of getting people boxed out. We've got to to a better job of getting a body on somebody, then going to get the ball."
Lansing opened the game with an alley-oop from Schneider to Khalil Bailey, bringing the home crowd to its feet. The Lions took a 15-9 lead at the end of the opening period, but THS battled back to to within one in the second. Dale drained a three at the halftime buzzer, ending an 11-2 run and pulling the Chieftains within one, 28-27.
THS will return to its own gym Friday for a meeting with reigning 4A state champ Ottawa. The Cyclones (1-0) lost eight seniors from last year's team, including current Duke freshman Semi Ojeleye, but opened their season Friday with a 65-58 win against St. James Academy. The game will begin immediately following the girls game, which is set for 5:45 p.m.
Score by quarters
Tonganoxie 9 18 16 13 — 56
Lansing 15 13 17 27 — 72
Individual scoring
TONGANOXIE — Jack Dale 4-12 4-6 14, Tyler Ford 4-6 2-2 10, Ben Johnson 4-5 1-2 9, Eric McPherson 3-4 1-1 7, Jared Sommers 2-2 2-2 6, Eric Tate 2-4 2-2 6, James Grizzle 2-2 0-0 4.
LANSING — Zach Jackson 8-13 8-11 28, Joe Schneider 4-14 4-4 13, Khalil Bailey 5-9 1-2 11, Dontae Gibson 2-4 4-4 8, Joe Lendway 2-2 0-2 4, Krystian Abbott 1-2 1-2 3, Kenneth Banks 0-1 3-4 3, Ben Johnson 1-4 0-0 2.