Mistakes cost
THS

girls at Lansing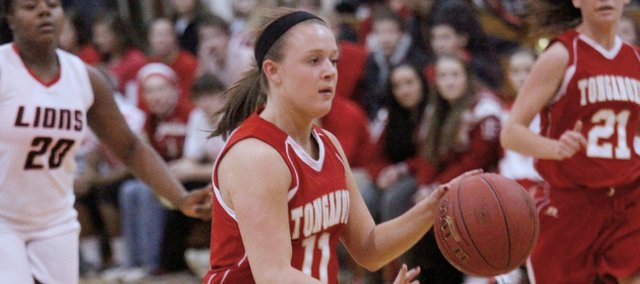 Lansing — Inexperience reared its ugly head in Tonganoxie's season opener Friday at Lansing, as several costly mistakes took their toll on the scoreboard.
The Chieftains committed 21 turnovers and shot just 25.5 percent from the floor in a 62-43 loss to the Class 5A lions.
"I told the kids they did a lot of good things out there," coach Randy Kraft said. "The problem with our inexperience is we did some things wrong, and we continued to do them. We didn't correct our mistakes like we needed to."
THS (0-1, 0-1 KVL) found itself on the wrong side of a 16-6 score after the opening period and couldn't make any headway before intermission. The Chieftains found some offensive life with 16 second-quarter points, but Lansing (1-0, 1-0) added 19 more for a 35-22 halftime lead.
The Lions stretched their lead to 20 points after three quarters, and THS never threatened down the stretch.
Senior Emily Soetaert led all scorers with 15 points. Fellow senior Katelyn Waldeier, the leading scorer among returning players from last year's team, had eight points and a career-high 19 rebounds. All but two of her points came from the free throw line, though, as she was just 1-of-7 from the floor.
As a team, the Chieftains connected on just 12 of 47 field goal attempts.
"All things considered, we might have outplayed them, but we've got to shoot the ball better," said Kraft, whose squad was also out-rebounded, 50-45. "They shot the ball better and rebounded better than we did."
The game marked the first extended varsity time for junior Tressa Walker and sophomore Cheyenne Ford. Ford had seven points and six rebounds in her debut. Emily Babcock and Mikayla Zielinski led Lansing with 13 points apiece.
THS will open its home schedule at 5:45 p.m. Friday against Frontier League school Ottawa. The Cyclones (1-0) opened their season Friday with a 42-37 win against St. James Academy.
"Hopefully, there's a lot more attention to a lot of these things (in practice)," Kraft said. "We've been telling them all along that they're not going to get away with it in games when the pressure's on."
Score by quarters
Tonganoxie 6 16 8 13 — 43
Lansing 16 19 15 12 — 62
Individual scoring
TONGANOXIE — Emily Soetaert 4-10 7-13 15, Katelyn Waldeier 1-7 6-11 8, Cheyenne Ford 2-8 3-3 7, Tressa Walker 3-9 0-0 6, Kara Banks 2-9 1-4 5, Sarah Ahart 0-3 2-8 2.
LANSING — Emily Babcock 5-10 3-4 13, Mikayla Zielinski 5-6 1-2 13, Maya Cooper 4-6 0-0 8, Destini Mathis 1-4 5-6 7, Kija Cammock 3-7 1-2 7, Madelyn Moya 1-3 2-2 4, Jasmine Meyer 1-2 2-4 4, Madison Bosworth 1-7 1-2 3, Jordan Counts 1-3 0-0 2, Carly Bohannon 0-2 1-2 1.